Campervans, also known as class B motorhomes, are the best way to conveniently have a recreational vehicle experience without the hassle of a full sized RV. Class B motorhomes are essentially conversion vans that have been handcrafted to provide amenities such as a shower, toilet, sleeping area and other travel conveniences.
Typically, a campervan will comfortably sleep two adults; however, some are adapted to sleep up to four (usually children). Class B's have the cozy feeling of being a "home away from home" yet they can be personalized and customized as much as you desire.
Take a look at this fun list of creative motorhomes by folks who have really made them their own with no details spared!
Volkswagen Doubleback
The Volkswagen Doubleback was produced in Great Britain. Its main feature is the signature "rear back" pull-out, which contains a bed allowing for greater interior cabin space when resting. It also features a rear-hinged elevating roof that allows for additional sleeping space.
Saab Camper
Interestingly enough, Saab owners must really like a good road trip! We've found several examples of old Saabs with Toppola camper shells built on top of them. The Toppola was originally manufactured for the Saab '99 Combi Coupe. The Toppola features the ability for full standing height and a kitchen or heater could be added if desired.
Escape Campervans
The Escape Camper Van Company rents full-sized vans converted to campers that are uniquely hand-painted by top artists in the Los Angeles area. These campervans are ideal for quick weekend getaways. With locations across the country (including New York, Atlanta, Miami, Denver, Las Vegas, San Francisco, Seattle and Los Angeles as well as Phoenix and Vancouver coming soon), you're sure to find these vans both convenient and fun!
Pleasure Way Traverse
The Traverse is the perfect compact class B for the couple, friends or family who love the great outdoors. Built on a Ford full-sized van chassis, the Traverse combines both ruggedness and convenience. Features include a sink, microwave, portapoti, two beds, cabinets, house batteries and holding tanks.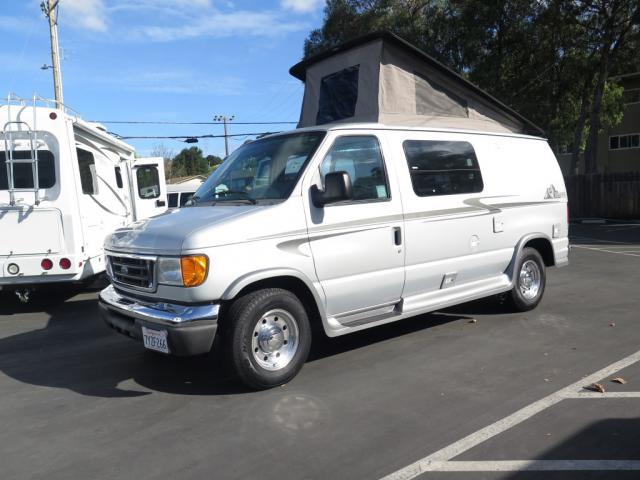 Searching for a new or pre-owned campervan? Classic Vans is Northern California's
#1 dealer in class B motorhomes. For nearly 30 years we've been selling quality conversion vans, mobility vehicles and campervans to the San Francisco Bay area and nationwide.
Contact us today or browse our online inventory today. Don't live locally? No problem! Inquire about our low-cost, nationwide van delivery.
Ask about financing options!