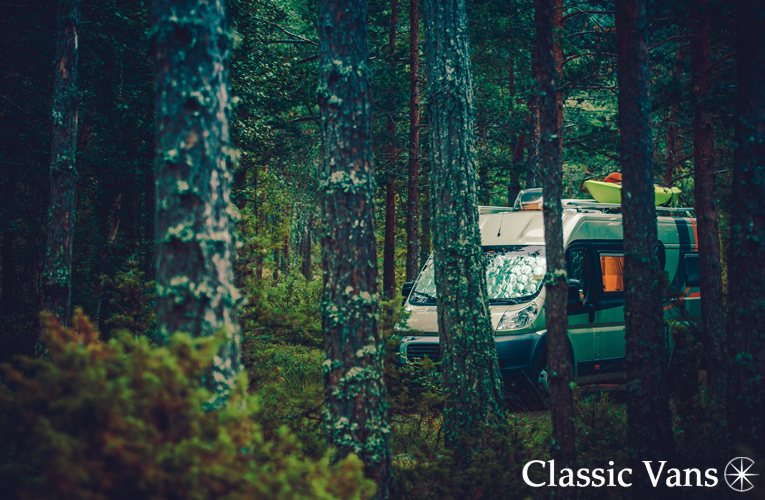 In September 2020, the Governor of California, Gavin Newsom, announced that the state would pursue a policy of no future sales of non-electric vehicles by 2035.
It may be difficult to grasp the idea of no more gas or diesel-powered passenger vehicles being sold in the Golden State, let alone Class B Rvs, motorhomes and campervans. But it may actually happen! RV manufacturers nationwide are trying to get ahead of any potential new laws so that their clientele can still get out and explore nature.
So what are the latest innovations when it comes to electric-powered campervans, motorhomes and RVs? What's the future? Do any electric models already exist?
Let's dig in and find out.
New "green" technology happening in motorhomes
While we may not be around to camp in an RV that is fully powered by batteries, there's a pretty good chance our children and grandchildren will. As more countries and states move to restrict internal combustion engines, new means of propelling a recreational vehicle will take hold.
How do we know?
Because some exciting, state-of-the-art technology is already starting to take shape.
One of the most promising at this time is via battery-supplied electricity.
While some may scoff at the notion, we feel like the coming electric RV revolution may not be all bad—just different. The recoil to such change is understandable, but what's more important for future generations: hearing the sound of a revved-up hemi or simply getting out into nature?
Though there are still plenty of bugs to work out, RV manufacturers are tinkering away, tweaking chassis to accommodate battery packs capable of propelling even the heaviest rigs down the highway. If the Toyota Prius and Tesla are any indication, eventually a tried-and-true system or 2 will be developed in the coming decades to allow for reliable charging and travel.
Once more charging stations are added to gas stations and campgrounds, there's no reason why you couldn't go from 1 campground to another in a 100% electric RV, motorhome or campervans, all without using a drop of gasoline or diesel.
Case study of an electric motorhome
If you're a fan of current diesel-pushers, you may wonder how the math works out when calculating MPG for a 45-foot, full-size, Class A brick-shaped motorhome. They'll usually see somewhere between 8 and 14 MPG.
So let's say you wanted to drive from Detroit, Michigan to Miami, Florida for the winter to be a snowbird. What might that trip cost each way? If we take the average price for a gallon of diesel (about $2.50) and assume the fuel tank is 100 gallons, that's roughly $250 per fillup. Taking the middle road for their MPG, we'll go with 11 miles per gallon; that means the Class A motorhome can travel 1,100 miles per tank.
So to traverse the distance between the 2 cities (1,400 miles), it would take 127 gallons of diesel—or about $318.
What would the same trip cost to charge a fully electric motorhome that has a range of 250 miles?
The national average cost for a kilowatt of power is $0.13 cents. Assuming the motorhome is charged at night (when costs are most reasonable) and assuming there's a single charge conducted during the day (when electricity costs are higher), the average electric motorhome will cost about $3 for 50 miles, or $15 for 250 miles.
That's $30 per day, or per every 500 miles, which translates to $90 in charging costs to go 1,400 miles, the distance between Detroit and Miami.
Clearly, when you break down the numbers, electric campervans and RVs have great potential as major cost-savers.
Charging a motorhome comes with other hurdles, however, such as a lack of charging stations which can make planning the trip tricky for now. But it's certainly possible that the nation's charging infrastructure will improve dramatically by the time more technology becomes available to make fully-electric RV or campervan more competitive.
Plus, the trip to Florida would cost 3.5 times less!
Are there any electric motorhomes currently on the market?
Winnebago made waves in 2018 when the company launched the first fully electric RV platform, with ranges of 85 to 125 miles on a full charge. It was a big, early step for a mass RV-producer, and since then, more motorhome manufacturers have jumped onto the electrification bandwagon.
Winnebago says that the initial vehicle was best suited "for urban and semi-urban short range commercial applications like mobile medical clinics, bloodmobiles, mobile classrooms and mobile outreach vehicles."
In 2018, Nissan debuted a fully electric pop-top camper van which, unfortunately, isn't for sale in the United States yet.
The move from gasoline or diesel-powered motorhomes and vans to electric travel vehicles isn't just happening in North America. Several European manufacturers in Germany, The Netherlands, England and France have all begun offering electric options.
In 2019, German RV manufacturer WOF debuted a dedicated electric motorhome with a 249-mile range. The Iridium offers a dry bath with a shower, kitchen and a split double bed with a dining area that can seat 5 in the front.
The future of campervans and motorhomes
An electric RV or campervan certainly has high demand within the camping crowd. At first, they may be best suited for "weekend warriors" (perhaps singles or couples) who want to camp within the electric charge range of their home. Gradually, we think this "range anxiety" will eventually be overcome with the installation of new charging stations across the country and further developments in battery technology.
As a lifelong internal combustion engine (ICE) owner and lover, one must eventually embrace the inevitable. There will always be old-school ICE engines powering old or vintage RVs. (One can't picture a Volkswagen Kombi Westfalia pop-top van without hearing its flat 4-motor sputtering away.)
But electric vehicles—not just motorhomes—are going to be more prevalent. Welcoming the future while admiring the past may be the best course of action so that future generations can enjoy as much nature as possible.
If you're on the market for a new or used campervan, come on down to Classic Vans and take a look at our inventory! Our expert staff members would be happy to help put you in the best motorhome that suits your family's needs.