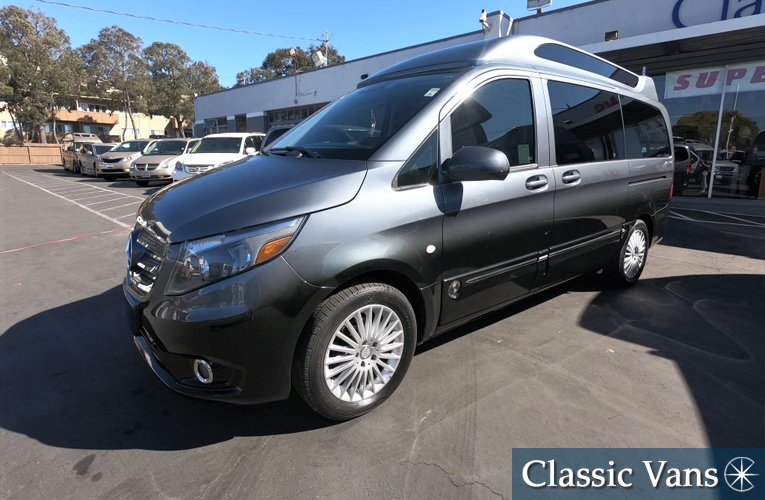 If you're looking to tap into that original Volkswagen Kombi/Bus/Westfalia camper mentality with a few more modern accoutrements, you might want to check out the new Mercedes-Benz Metris Weekender. This mini camper van is an alternative to the Volkswagen T6 California — a vehicle that, unbelievably, is not available for sale in America.
Vanlifers who want to experience camping like our parents or grandparents back in the day, but without the maintenance and reliability issues, could be the perfect target for such a vehicle. Old Kombi's were never fast, and even one in good condition can have ample maintenance needs which cause owners to empty their wallet and miss out on a weekend of fun.
The Weekender is based on the Mercedes Metris and was unveiled to the public at this year's Chicago Auto Show.
The announcement of a new camper van was big news on social media and automotive sites like Jalopnik. Even CNN got the campervan craze!
While the Weekender offers a long list of standard and optional accessories (more on that below), one thing it will not have is a bathroom or shower. If you have to have a bathroom or shower, then the Airstream-built Mercedes Sprinter van (which is a lot bigger) may be the better rig for you.
The Weekender does have a fold-down rear bed, as well as a bed in the pop-up tent portion of the top. While tight, this minivan can sleep up to 4 people.
Pretty impressive for this little van!
Other standard (and surprising) features of the Weekender include:
USB charging ports and foam mattress in the elevated sleeping area
Swivel front seats
Rear bed converts into bench seating for 3 people
Second battery for lights and electronic devices
5,000-pound towing capacity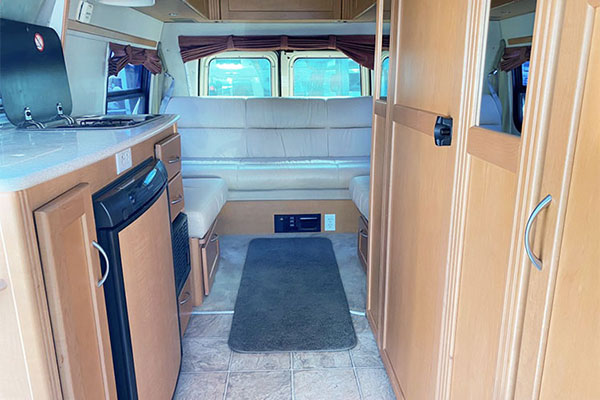 Is a full RV out of your budget, or otherwise too big and cumbersome for your needs? A small camper van is your best option!
The Weekender can also be spec'd to have a pullout kitchen unit as an option, as well as solar panels, a variety of body wraps with 200 different colors, upgraded navigation and audio unit, roof racks for skis or surfboards, and an 8-foot awning with bug screens. A rear hatch tent is also an option for additional space.
At this time, it doesn't appear as though Mercedes will offer a diesel option, as all Metris vans are configured to have a 4-cylinder turbo gas motor with 7-speed auto transmission. That motor is equipped with 2-stage turbos with 258 lb-ft of torque at 1,400 RPM. So rest easy knowing it won't be a slouch when compared to the original VW bus (which struggled to go faster than 60 mph – if you were brave enough to attempt it).
This new camper minivan is expected to go on sale at Mercedes dealers sometime in the spring of 2020. According to a Mercedes spokeswoman, pricing will start in the low $70,000s. A regular, passenger-configured Metris starts at $35,000, so that means about $35,000-worth of equipment/alterations are made to the van by Ohio-based Driverge Vehicle Innovations, which convert the base Metris at their facility in South Carolina.
According to a news release, Mercedes sought input from Seattle-based Peace Vans, which had been selling its version of the Weekender before working with Mercedes on this newest offering.
"From adventure seeking millennials to hip retirees, everyone is craving authentic and connected experiences to nature," says Harley Sitner, President of Peace Vans.
"Small camper vans, like this exciting new Metris Weekender from Mercedes, hit a very large sweet spot in the market. The demand we see for these products is exceptional and the feedback from renters and early adopters is fantastic. Being experts in pop up campers, we are confident Mercedes has a fantastic product that is going to delight an entire new generation of road trippers."
You can take a look at photos of Mercedes' all-new pop-up camper minivan here.
Here at Classic Vans, we're thrilled to welcome another camper van into the fold, and can't wait until we're able to get our hands on some for our campervan inventory.
Stay tuned and camp on, amigos!