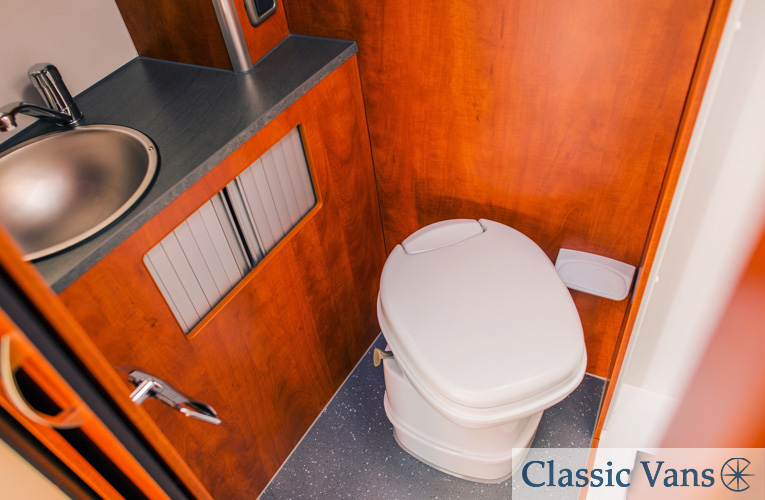 Nothing disappoints like rushing into your RV bathroom only to find all your toiletries, among other things, spilled all over the floor. Because an RV is a small space, it can be challenging to fit in everything you need. Fortunately, we have some bathroom storage ideas you can use to help organize your RV and make your next trip more enjoyable.
Shower storage
A shower caddy is a common way to organize showers at home and in RVs. They're pretty versatile, with some made to hang over your shower head or door and others that attach to your shower wall or door with suction cups, so choose the one that works best for you.
A mesh shower curtain organizer is another great way to store your toiletries, as it helps you avoid cluttering your bathroom sink.
You may also want to consider wall-mounted shampoo and soap dispensers that reduce counter clutter and won't move around as you travel.
Toiletry storage
Once you've found a place to store all your shower items, you still need a place to store other toiletries like toothpaste, lotion and deodorant. Depending on the size of your space, you have a few options.
Wall-mounted baskets are one good option. They come in a variety of sizes and materials, and many can be screwed directly into a wall or attached with a suction cup.
A multi-compartment wall-mounted toothbrush holder may be your best bet for an RV bathroom since no drilling or screwing is needed. In addition to storing your toothbrushes, it can also be used to store razors and shower gels too.
You could also consider purchasing curtain clips to hang smaller items like bottles of lotion or toothpaste. They're traditionally put on curtain rods and clipped to curtains, but they can also be placed on your shower rod and used to clip up some of your bathroom items as well. And as an added bonus—they're economical and a great way to keep your counters clear.
Towel storage
Before purchasing towel storage for your RV, think about how many towels you want to store, where you plan to put them, and how heavy they'll be when they're wet and dry.
An over-the-door hanging towel organizer is one great option. Many people prefer these since they help save space and can store several towels at a time, keeping your RV bathroom organized. They're typically able to hold a lot of weight and are known for being low maintenance and durable.
Towel bars are another good option because most are rustproof and easy to install. They typically only hold a single towel, but you can mount them on both the inside and outside of a cabinet door to make the most of your space.
Toilet paper storage
Having a supply of toilet paper is a must in any RV, but it's difficult to find a place to store it. One great tip for storing toilet paper is to purchase an inexpensive wall-mounted plastic bag holder that people often use to store their used grocery bags after a shopping trip. These are also the perfect size for rolls of toilet paper and can be mounted on the wall to keep them secure and accessible in any RV bathroom.
Ready to upgrade your RV?
If you're ready to upgrade your old RV or van, contact the experts at Classic Vans today. We're proud to be America's #1 new and used conversion van, camper van and wheelchair-accessible dealer. Family-owned and operated for over 30 years, we offer a variety of new and used vehicles to suit your individual needs.
We also offer nationwide delivery, so contact us to find your dream van today.