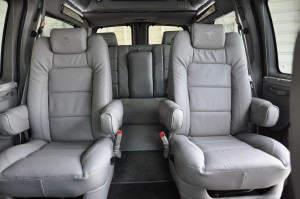 A Truly Versatile Vehicle: The Conversion Van:
Perhaps the most versatile automobile on the road, The Conversion van combines adventure, luxury, and entertainment. With the amenities of an R.V., more passenger and cargo space than an SUV and the plush interior of a European sedan, conversion vans should not be overlooked when browsing the market for your next vehicle.
Interested in traveling the open road but not looking for the hassle and costly maintenance of a large R.V.? The Conversion van is the perfect substitute. Conversion vans have the ability to turn third row seating into a comfortable bed for travel. Their size gives lots of space for luggage and road trip gear. Endless customization options from entertainment systems to small kitchen appliances allow for you to have the amenities of an R.V. with out the outrageous gas mileage and difficult parking. Smoother handling gives the driver and passengers a much more relaxed ride.
Looking for an alternative to a SUV? Conversion vans offer more passenger space and more overall bang for your buck! From state of the art entertainment systems to customized high quality leather interiors, conversion vans are a far more comfortable ride. With similar gas mileage and at a lower price point, the Conversion van is a clear choice when compared to current SUV's on the market.
Number one in spacious amenities, road going comfort and luxurious custom interiors, Conversion vans are undoubtedly the best deal on the market when shopping for your next full size plus vehicle.