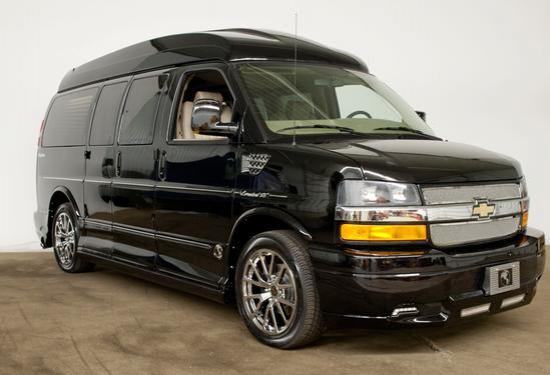 Conversion Vans: NFL Quarterbacks ride of choice
Conversion vans offer the most versatility and luxury on the road as far as full sized vehicles come. With the ability to seat 7- 10 passengers, combined with the elegance and technology of a high end luxury sedan or SUV, they seem to be catching the eye of some NFL elite.
According to reports, Chicago Bears star quarterback, Jay Cutler arrives to Soldier Field in a white Chevy 2500 manufactured by Explorer Van Co. in Indiana. Cutler, a new father of two young boys drove to training camp in Bourbonnais, IL in what he calls his "Dad Style' ride. While practical enough for a family with the ability to haul luggage and seating for nine, the Cutlers are riding comfortably and in style. The Chevy 2500 can also be equipped with flat screen TV's and video game outlets for entertainment. That's probably why bears teammate Matt Forte tweeted he can't wait to play video games in Cutlers van.
The great thing about conversion vans is that you won't need Jay's $126.7 million dollar salary in order to get one of your own. A van like the cutlers brand new will cost you around $60,000 and there are many great used conversion vans out there for much less.
Cutler is not the only NFL quarterback finding the luxury and ruggedness of Conversion Vans to be a winning choice. Washington Redskins backup quarterback Kirk Cousins is driving a 2000 model he purchased from his grandmother. Cousins has said that his van that rides "High and Comfortable" and is perfect for road trips with his wife in the off season. His van is complete with a fold out sofa and a TV.
Both Cutler and Cousins have a multitude of options when it comes to purchasing a vehicle of their liking. They are proud owners of these luxury Conversion Vans and recognize the versatility and comfort they offer to themselves and their families.