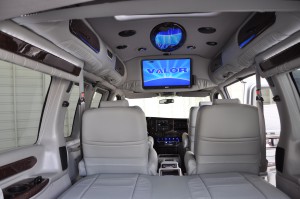 Explorer Van Conversion: America's Vans
Company Philosophy:
When discussing van conversions it's difficult to have a conversation without mentioning Explorer Van's. Located in America's heartland, Warsaw, Indiana, Explorer Van offers unparalleled quality and attention to detail when manufacturing their vehicles. Habitual owners of Explorer Van's will often express enthusiasm and appreciation for quality when talking about their beloved conversion vans. With the enduring company philosophy that "We deliver more, not less than we promise", it is easy to see why Explorer Van is a leader in the market.
History:
In 1980 the automotive industry was in a major slump. The economy was at an all-time low since the great depression and car dealers were the first to feel the financial struggle. Father and son team Bob and Steve Kessler had taken notice to the lack of quality in the Conversion Van industry during this time. They were appalled to see the small group of van conversion companies selling vehicles with little interest in the needs of the customers. These companies goals lied solely in creating quickly turned over product with little integrity or quality. In November of 1980 Explorer Van Company was born. Its credo would be to create a van with the consumers' needs in mind while maintaining an innovative, quality product.
Bob and Steve soon after purchased their first chassis from a car dealer in Detroit, Michigan. To this day that company remains an Explorer Van dealer. Hiring skilled carpenters, electricians and automotive specialists, The Kesslers' began to create Vans of incredible style and quality. The first was completed in December of 1980. Today Explorer Vans severs more than 300 dealers from coast to coast. That same attention and passion for making a great conversion van lives in every one produced.
Explorer Van's Today:
In order to ensure that only top quality vehicles are produced, Explorer Vans has over 100 craftsmen oversee their product. From lighting, wood components, interior seating and design; each vehicle Explorer manufactures must live up to rigorous standards. Year in and year out, Explorer Vans is the country's dominant conversion available on the market.
We invite you to take a look at Classic Van's inventory of Explorer Van Conversions. We work closely with the Kessler family to provide our customers with nothing but the best.