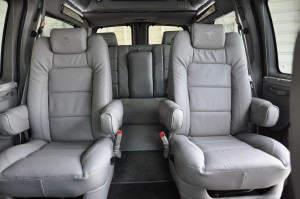 History of the Beloved Conversion Van
Conversion vans are the automotive industries best kept full sized vehicle secret. While SUV's, mini-vans and station wagons may seem to be more prevalent on the road; when you see someone outfitted in a specially tailored Conversion van, you can't help but take a double look. Conversion van owners are usually repeat buyers. When you purchase your very own, personally designed van, it's difficult not to fall in love.
The Conversion van first came into popularity in the 1970's and 1980's. The early models were simply vans with additional seats put in them. They were used for travel, cross country adventure and as a means to transport more people all together. You may be thinking of shag carpet, curtains and murals painted on the sides. The Conversion van was a baby of the 70's, and the free spirit of that era still remains; however with a much more practical and luxurious approach.
One of the pioneers of the industry is Dan A. Welsh. In Goshen, Indiana; Welsh started Rockwood Vans in the summer of 1977. Indiana has since become the hub of American made Conversion vans. Several other Conversion van companies started to sprout up as a result and by the early 1980's these vans had come into popularity.
Around the mid 1980's, Conversion vans began to offer luxurious interiors such as wood paneling, lighting and thick leather seating. Families and retirees began to take notice and found these vans useful for travel, camping and day to day activity. Amenities such as fold down sofas for sleeping, cooking utilities and televisions were added, brining the Conversion van in alignment with 21st century living.
Today conversion vans offer technology and luxury with the same spirit of adventure. More aerodynamic and fuel efficient models have been manufactured making their gas mileage comparable to that of a larger SUV. Heated seats, blue tooth, navigation, blue ray dvd players and videogame consoles allow for you and your family to travel in ease in our fast paced society. The options for customizing your van specific to your needs are endless! Check out what a Conversion van can offer you in 2015!