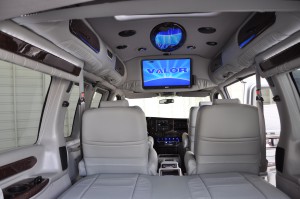 Purchasing Power: Tips for buying a Used Conversion Van
Conversion Vans just may be the automotive industries best kept secret. They are rugged and sporty much like a RV, but with the comfort and amenities of a luxury SUV or sedan. They are at a much lower price point than a RV, without the hassle of parking and costly RV maintenance. They are also commonly less expensive than eight passenger SUV's, but with more luxury customizations and versatility. If you are interested in having both adventure and luxury, the Conversion van may be just the perfect vehicle for you.
With so many options and customizations available, where do you start to look for your used Conversion Van? The following is a step by step guide of things to consider when purchasing your new vehicle.
1.What exactly are your needs?
How many people are you planning on traveling with? Are you planning on sleeping in your conversion van when camping or road tripping? What kind of entertainment would you like available to you on the road? How much space for gear is necessary, would you be interested in a high top or a low top van? These are some of the questions that come up when searching the market for a used conversion van. Writing down an extensive list of your personal travel needs is the best place to start. The great thing about conversion vans is they can be tailored specifically to you. When searching for a used van, looking for specific customizations that cater to your road trip functionality is going to be the best way to find exactly what you want. The market for used conversion vans is large, with a bit of research you are guaranteed to find a vehicle just right for you and your family or friends.
2.Pay attention to the basics.
Often time's buyers can get so excited about all of the bells and whistles that the basics can be left out. Make sure that the used conversion vans engine and transmission pass standard quality assurance tests. The engine should look clean and run smoothly. Thoroughly inspect the engine and transmission in order to ensure there quality is comparable to the amount of miles on the vehicle. Fortunately used custom vans are often times in great condition because the original owners take such pride in their personalized travel vehicle. Making sure not to neglect the major engine parts is a key point that should come up in any used car purchase.
3. Warranty Options
Look into what kind of warranty options the dealer you are buying from offers. Buying a used Conversion Van with a certified warranty will relieve a lot of anxiety you may have over your purchase. Check and see exactly what is covered under the warranty and for how many miles. Also if possible verify the reputation of the dealer you are buying your van from. How long has the dealership been in business? Do they generate return buyers?
We invite you to check out our inventory of used Conversion Vans at Classic Vans. All of our vans pass rigorous inspections and come with certified warranties. Each vehicle is detailed to look brand- new. Just because you're buying a used van doesn't mean it doesn't have to feel new!