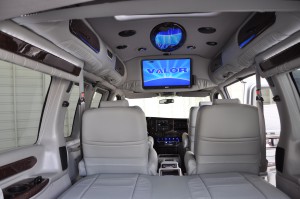 Lets face it, the parents in families with multiple children often take on a full time jobs as taxi drivers or chauffer. Since so much time is spent carting the kids off to school, extracurricular activities, birthday parties and everything else; making the right choice on which vehicle to drive can be overwhelming. With so many options out there conversion vans can offer a great alternative to the common minivan or SUV. Here's why:
1. More space = more people = more fun!
Most conversion vans offer 7 passenger seating allowing room for extra friends and family. Mini vans and SUV's may seat 7 as well but in a much more confined space. Conversion vans allow for all the great people in your life to come along for the ride and lets face it, car rides are more fun with more space!
2. Great for extracurricular activities
Conversion vans are great for all of the families sporting equipment, musical instruments and whatever else you need to bring along to your destination
3. Keeps kids entertained on long drives and commutes (keeps parents sane!)
I'm sure no parent can say they've never heard "Are we there yet?" while driving with the kiddos on a longer than normal trip. Conversion vans can be equipped with flat screen TV's, video game consoles (optional of course) and I pod adapters. Cause let's face it, a little distraction on the 3-hour trip to grandmas house for the kids is a peaceful ride for mom and dad.
4. Safety! A parents number one concern
Conversion vans have turning radius allowing for extremely easy handling. They are equipped with 4 wheel anti-lock braking system (ABS), driver and front passenger airbags, sensors and cameras allowing the driver to see exactly what's behind the vehicle all help to get your family to your destination safely and securely.
5. Great memories are made!
Whether it is a road trip or carpool to school, conversion vans are the perfect vehicles your family can make wonderful memories in. The luxury and space will make you want to travel together more often and allow you more relaxation on those special trips.
Interested in learning more about how conversion vans can enhance your family's traveling experience? Continue browsing our blog, or click here to learn more about our inventory of conversion vans.
And of course, please feel free to contact us with any questions…