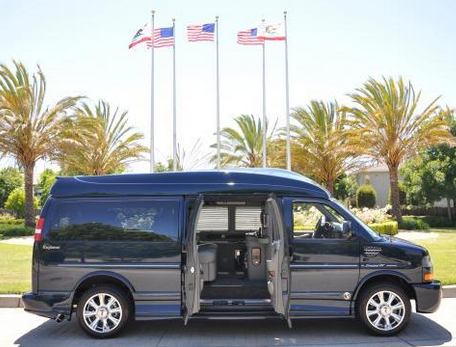 Attention all Camping Enthusiasts:
While, there is nothing wrong with cruising the coast, state or country roads in your full sized RV, if you're not quite ready for the size and complexity of driving around a huge recreational vehicle then using a smaller conversion van can be a great alternative!
Pitching a tent or 'roughing' it has its charms, but if you're looking for a little more comfort and ease, a conversion van might be a nice option.
Here are some advantages to using a conversion van on your next camping trip:
Cost:Camping and traveling in a conversion van is significantly less expensive than in an RV. For starters, the initial cost of a conversion van is vastly less, especially if you go for a used one. A used 2007 Chevrolet Express with 22,716 miles on it will run you just under $40,000. In contrast, a used 2008 Fleetwood Discovery 40x with approximately the same amount of miles will cost you $125,900!
Mileage:The cost of driving is significantly more economical. A conversion van can run about 18 miles per gallon cross-country. The miles per gallon for an RV would be lucky to be half of that, not to mention the costly expenses they inquire for maintenance along the way.
Comfort:Compared to tent camping, a van is so much more comfortable. Even if you're planning on backpacking, having a conversion van to come back to when it starts to downpour can be a lifesaver. If you're planning on backpacking a long way from home, the conversion van can be used in lieu of paying for dingy motels. Conversion vans can be a true outdoorsman's best asset!
Maneuverability:While you would think that camping in an RV would always be more comfortable, the conversion van can be a tough rival. For example, one of the conveniences of a conversion van is you have the ability to park anywhere. After a long day of hiking, due to the tinted windows and blinds, one could take a quick nap in the bed of the van versus searching for an RV equipped site. One family expressed that on a trip to Lake Talquin in Florida, they were able to secure the best spot right on the water due to the ability to fit their conversion van.
Bottom line: If you're not considering a conversion van for your next camping trip, you may be missing out! Come check out Classic Vans' inventory of new and used conversion vans. Find out why Classic Vans has everything you and your companions need for your next road trip!