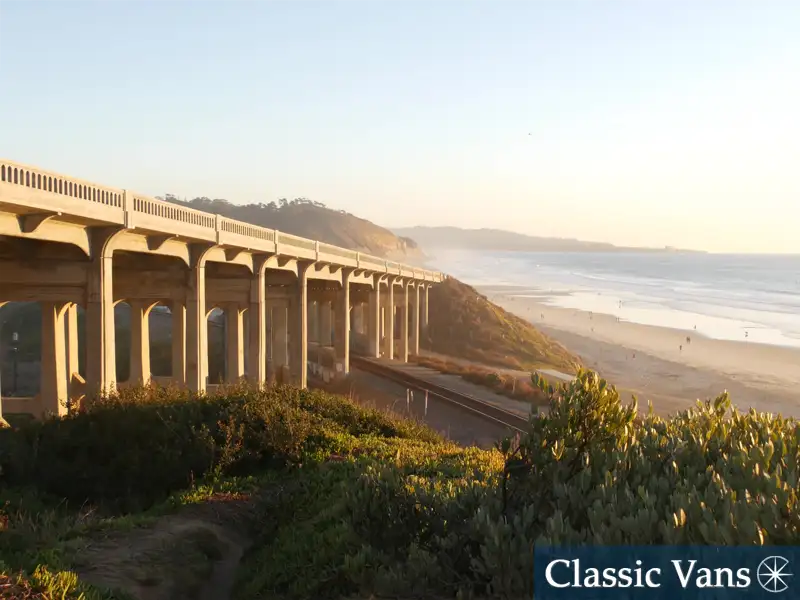 Everything you need to know when planning your trip to the Pacific Coast Highway
If you're driving to any seaside location between southern California and Washington state, the Pacific Coast Highway (PCH) offers you the option to enjoy coastal vistas as you travel. Commuters and road trippers both make use of this route; portions of it are also open to cyclists as part of a street bike route.
Officials at the California Department of Transportation (Caltrans) have officially designated the portions of the Pacific Coast Highway encompassing Santa Barbara, San Luis Obispo, Monterey and San Mateo as a scenic highway. This designation is based on high standards for the panoramic characteristics of a highway's surrounding landscape. When you're driving for pleasure, keep the PCH in mind as one of the most enjoyable road trips the U.S. has to offer sightseers.
How long is the Pacific Coast Highway, and where does it begin and end?
The answer to this question depends on how you define "Pacific Coast Highway." State officials in California have allocated the phrase "Pacific Coast Highway" as an alternate name for Route 1, which is a 4-lane highway that stretches between San Juan Capistrano to the location near El Rio where the 101 freeway begins. If you take Dana Point's Capistrano Beach as one of PCH's endpoints, and the other one as Route 1's junction point with the 101 freeway in Mendocino County, you could say the PCH measures approximately 656 miles long.
However, many people use the phrase "Pacific Coast Highway" to refer to the entire interstate stretch of west coast freeway that runs alongside the Pacific Ocean, carrying travelers up and down between southern California and Washington State. If your intended definition isn't limited to only California's Route 1 but also includes U.S. Route 101, you could say that the PCH covers a distance of 1,675 miles between Olympia, Washington and San Diego, California.
How long does it take to drive the entire Pacific Coast Highway?
If you were to follow the speed limit and drive the entire expanse of California's Highway 1 at non-peak times, you'd need to allocate a minimum of 10 hours to travel that 656-mile distance. Of course, you'll likely want to budget more time for stops along the way.
If you're hoping to make a quick road trip between San Francisco and Los Angeles, 3 days and 2 nights will allow you to see the main highlights this iconic PCH van road trip offers. If you want the full PCH experience, it's worth devoting at least 5 days to ensure you'll be able to stop at all of your top-priority eateries, beaches and scenic spots along the way.
If you're planning to drive the entire expanse of freeway stretching from San Diego to Olympia, you could do it nonstop in about 18 or 19 hours, assuming favorable weather and traffic conditions. However, you'll have more fun if you plan stops during your trip. Even if you're pressed for time, a 5-day trip allows you to see many of the highlights. A 7-day road trip would be better, and a 10-day trip or longer is ideal.
Is it better to drive north or south along the Pacific Coast Highway?
For the best panoramic views of the Pacific Ocean and other scenery, it's ideal to drive on the side of the road that's closest to the coastline. When you drive on the PCH, starting in the north is optimal because traveling in the southerly direction keeps you closest to the coast and provides the best unobstructed views.
That said, there isn't such a huge difference in scenery between the two drives that you'd want to go far out of your way to start in the north. Logistically, if it's more convenient for you to start in the south and drive north, you wouldn't be giving up much to prioritize convenience when you plan your itinerary.
One other consideration is your comfort level when driving atop steep hillside terrain, where the highways don't consistently include guardrails. If that scenario makes you nervous, you might be better off starting in the south and driving north; that way, you'll always have a buffer between your car and the cliffs.
When is the best time to drive the Pacific Coast Highway?
Typically, March and April are the most beautiful months for driving the California portions of the PCH, but it might be raining in Oregon and Washington during those months. If it's important to you to avoid rain when you make your PCH van road trip, September is likely to be the most enjoyable month for making the drive.
When planning your trip, keep in mind that California is vulnerable to droughts, flooding and mudslides. When it's not a drought year, flooding is most likely to occur during the months of December, January and February but can also continue into March. Before you embark on a February PCH road trip, it's sensible to check conditions and be alert for possible road closures in low-lying portions of the PCH, such as Huntington Beach.
Best places to visit along the Pacific Coast Highway
Below are some of our top picks for places to stop along the Pacific Coast Highway.
Want to make your Pacific Coast Highway road trip even better?
It might be time to upgrade your old camper van to make your next road trip even better. If you're looking for a new or used camper van, conversion van or RV for your trip to the Pacific Coast Highway, check out our wide selection at Classic Vans. At Classic Vans, we can help get you into the van of your dreams. We're proud to be America's #1 new and used conversion van, camper van and wheelchair-accessible dealer. Family-owned and operated since 1988, we offer low-cost nationwide delivery.
Contact us today or check out our website to see all we have to offer.