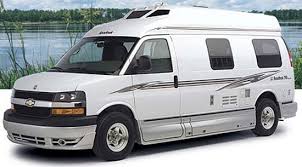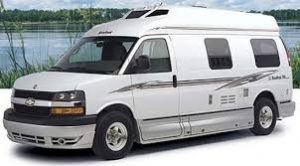 Owning a campervan can be your ticket to weekends of adventure and road trips with memories to last a lifetime. You can plan the perfect trip in your class B motorhome.
What you can't plan for, however, are unexpected weather conditions!
Knowing how to safely navigate and maintain your vehicle in less than ideal weather is a crucial part of owning a campervan or RV.
Driving your Class B or Recreational Vehicle in the Snow
Snow can cause some anxiety while driving your RV or motorhome. Above all, common sense and caution go a long way! Consider some of these other tips before embarking on your next icy trip:
If you find your vehicle starts sliding, slow down and slightly pump the brakes.

Always leave at least 3 car lengths between yourself and any vehicles in front of you.

If conditions are particularly icy, avoid pulling a trailer if you can.

Avoid making sharp turns and abrupt stops, especially if you're pulling a trailer.

If you happen to be pulling a trailer and see it start to fishtail, apply the trailer brakes gently.

Allow for extra travel time when making plans. Safety first! That could mean pulling off and staying a few extra nights as opposed to going straight to your destination.

Have a set of snow chains on hand. Also, knowing how to use them doesn't hurt either!

Make sure your RV orcampervan has a full tank of gas. Bringing an extra tank is a good idea in particularly blizzard like scenarios. You want to make sure you have a sufficient supply to get you through the cold night.

Don't make any plans to travel anywhere remote or out of cell phone reception if you think there's a possibility you may encounter a severe winter storm.

Having current roadside assistance can help you in the unfortunate situation that you get stranded.
Driving your Class B or Recreational Vehicle in the Rain
Rain can be unexpected and, depending on the storm, either mild or dangerous. Keep the following tips in mind when you find yourself in your campervan or RV during a rainstorm or thunderstorm:
Have you checked the tread on your tires lately? Typically, the more defined your tread, the less likely you are to hydroplane.

In a particularly wet storm, track behind the tire marks from the vehicle in front of you. (Remember to maintain a safe distance though.) There's less water on the road where other drivers have covered.

Be aware that off-ramps, intersections and parking lots are prone to accumulating oil. This accumulation of oil is particularly dangerous if it hasn't rained in a few weeks. When the rain hits these areas, they can become especially slick. Use extra caution.

If you need to slow down and don't have anti-lock brakes, use the pump-release-pump-release method.

Before leaving for your trip, make sure your windshield wipers are in good working order. Tattered wipers can lead to a poor view of the road ahead.

Turn on your headlights in rainy conditions.

Use the middle lane. On freeways this generally tends to be on higher ground and less flooded.
Final tip: Watch your speed while driving in snowy or rainy conditions. No event or destination is ever worth risking the lives of you, your family or your friends.  Always exercise caution when you encounter less than ideal driving conditions.
Looking for an class B motorhome, camper van or RV? Classic Vans has the San Francisco Bay Area's largest selection of new and used campervans, conversion vans and mobility vehicles. Contact us or browse our inventory for help finding or building the custom road trip vehicle of your dreams!
Don't live in California? No problem! Ask about nationwide, low-cost van delivery.
Look for an upcoming article on driving your RV or motorhome in extreme wind conditions!