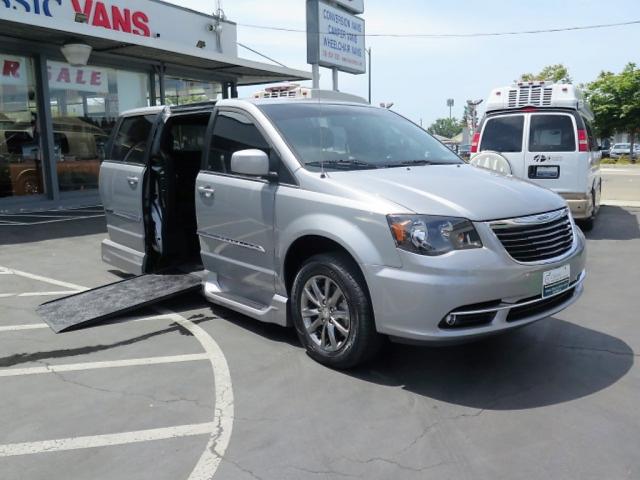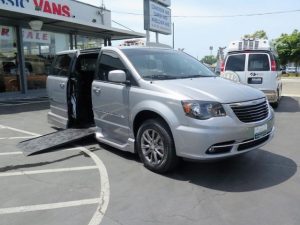 Vantage Mobility International (VMI) is one of the countries largest manufacturers of wheelchair van conversions. Vantage Mobility International was established after the companies original founders had the desire to make a wheelchair lift for a close family friend. VMI created the first ever wheelchair accessible minivan in 1987. For thirty plus years, VMI has been manufacturing quality crafted mobility impaired vehicles for their beloved customers. The folks at VMI are masters at converting Chrysler Pacifica's, Toyota Sienna's, Honda Odysseys, Honda Pilots and Dodge Grand Caravans. Up until 2017, VMI was building mobility accessible vehicles on Chrysler Town and Country's. Now VMI uses the all-new Chrysler Pacifica in the Town and Country's Place.
This 2015 Chrysler Town and Country couldn't be in better shape! Complete with leather interior, navigation, power front seating, a TV as well as power side doors. With only 14,534 miles, this van is practically new.
The 2015 Chrysler Town & Country VMI Northstar™ has a side entry ramp. When not in use, the side entry ramp easily stores underneath the lowered floor of the minivan. This is called an in-floor, side-entry ramp conversion.
Since in-floor ramps are stowed under the floor of your van or minivan, they create additional interior room and allow for greater maneuverability. These ramps keep the doorway unobstructed and allow for the cabin space to remain clean and uncluttered.
Some of the benefit of in-floor ramps is that they better allow passengers that are not in wheelchairs to enter and exit the van. In-floor ramps are also better for exiting and entering your vehicle when you happen to be parked on rather uneven terrain.
The side-entry ramp on this Chrysler Town and Country is fully powered with a one-touch system. Generally speaking, curbside parking is easier with side-entry ramps rather than rear entry. Another benefit to having a side-entry ramp is that your rear bench remains intact.
The lowered floor on the 2015 Chrysler Town and Country allows for easier access to the comfortable interior. This Town and Country's exterior is silver and it's interior is black leather. Priced at $ 44, 995, this clean and easy to use mobility equipped minivan is a fantastic deal.
Searching for your next mobility minivan? Classic Vans in Hayward, California is the West Coast's premier dealer of new and used Conversion Vans, Mobility Vans and Motorhomes.
Since 1988 Classic Vans has been serving the San Francisco Bay Area with high quality vans for a variety of tastes and needs.
Call (866) 370-8222 or visit www.classicvans.com today and find the van of your dreams! Don't live in California? No problem! Inquire about low-cost, nationwide van delivery.