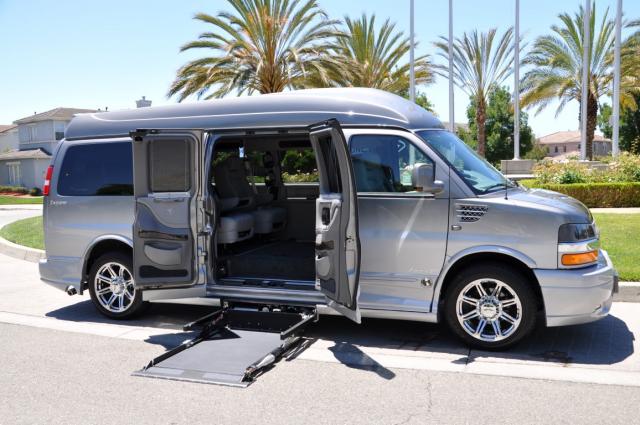 Do you or a loved one live with a disability that requires a wheelchair accessible van? Million of American's live with ailments that leave them dependent on mobility equipment. Many of their family members and friends know that wheelchair accessible vehicles provide them with so many incredible benefits!
There are typically four types of handicap compatible vehicles available on the market. Wheelchair minivans, full-sized wheelchair vans, other vehicles such as SUV's and sedans and handicap accessible buses used to transport groups of persons in wheelchairs. The two most popular types will be full-sized vans and mini vans. Both have pluses and minuses to their size, features and capabilities.
Often time's full-sized vans get overlooked due to their larger size. People can be intimidated by conversion vans. They think, "wow they must be difficult to park and drive", "they must take up a lot of fuel". The truth is, full-sized wheelchair vans offer a great deal of efficiency and practicality.
If you are doing your research on which type of handicap conversion van to purchase, consider a full-sized model. Both offer benefits such as freedom, autonomy, safety, adventure and the ability to travel or visit friends and loved ones.
Reasons to Consider a Full-Sized Wheelchair Van:
Fit more friends! Full-sized wheelchair vans offer more seating capacity. A minivan can typically seat two persons as well as the wheelchair user. In a full-sized van, the vehicle can accommodate the driver, front-seat passenger and three additional guests in the rear.
Cargo Space! Full-sized wheelchair vans have more space for cargo than wheelchair vehicles. Since most full-sized handicap conversion vans offer side entry as opposed to rear loading, you have the ability to use that back trunk for cargo as it was intended.
Lowered floors offered in the center cargo space allow for easier access via ramps and lifts as well as more interior space.
Their weight carrying capacity is much greater than that of a minivan. You have the ability to carry multiple wheelchairs as well as heavier equipment.
Since the vehicle offers lowered floors and greater roof space, full-sized conversion vans can accommodate larger wheelchairs.
The raised roof allows for a wheelchair passenger to enter the vehicle seated.
Another benefit to having a full-sized van is the fact that caretakers can walk around and tend to the wheelchair passenger. This is of great help, especially to those who require a lot of care.
Many full-sized wheelchair vans have the space for entertainment equipment such as TV's, blue-ray DVD players and video game consoles. This is great if you tend to take longer trips.
Full-sized wheelchair vans are incredibly safe to drive. In the unfortunate incident of an accident, you can assure that your full-sized wheelchair van will keep you safe in the incidence of impact.
A full-sized conversion van offers more luxury! You can purchase a more simplistic model and be quite satisfied. If you are seeking a luxury vehicle that is also wheelchair capable, a conversion van is the ticket!
Full-sized mobility vans are easy to drive, park and great for families that require wheelchair accessibility in their family vehicle. Even if it is just for a caretaker and handicap passenger you may find that you appreciate the additional space and greater number of features.
Searching for a new or pre-owned full-sized wheelchair van or minivan? Classic Vans offers a quality selection of mobility accessible vans. Located in Hayward, California, Classic Vans has been family owned and operated since 1989. They strive to provide the greatest knowledge and customer service to their customers requiring a mobility vehicle. Call (866) 370-8222 or browse inventory at https://www.classicvans.com/full-size-wheelchair-vans/.
Don't live in Northern California? No problem! Ask about low-cost, nationwide van delivery.