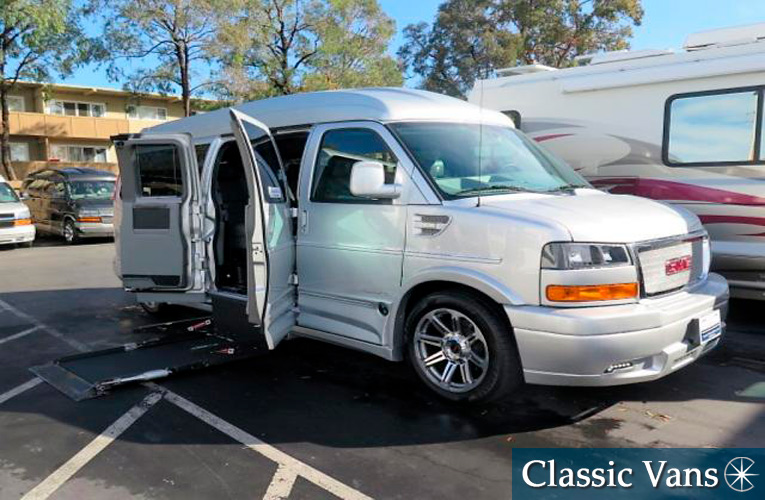 Searching for the right wheelchair accessible van can feel like an overwhelming process.
With so many different types of vans, lifts, and additional equipment to select from, buyers are often left hoping (but not knowing) they've made the right purchase.
A full-size wheelchair van may not be the type of vehicle that first comes to mind when researching which adaptive van best suits your needs. Full-size vans may be less commonly seen on the road or at the wheelchair van dealership than wheelchair minivans, but with so many additional features and amenities, they shouldn't be overlooked.
Benefits of owning a full-sized wheelchair van
More accessible. Entering and exiting a full-sized wheelchair van is a smoother and easier process. No need to bend or crouch. The doorways offer plenty of clearance and provides additional space with its raised roof.
More power. Full-sized wheelchair vans have the ability to hold more weight. So if you have a power wheelchair or would like to transport lots of mobility equipment, a full-sized van may be a more practical choice.
More space. Purchasing a full-sized van means you have the ability to seat additional passengers as well as fit plenty of cargo.
More options. Full-sized vans have more options for customization than standard wheelchair minivans. Since these vans provide more space, owners will have more opportunities to rearrange layouts or add custom entertainment options (TV, video game consoles, DVD players, etc.).
Most popular full-size wheelchair vans for sale
Here's a selection of a few of the most beloved full-sized wheelchair vans for sale at Classic Vans: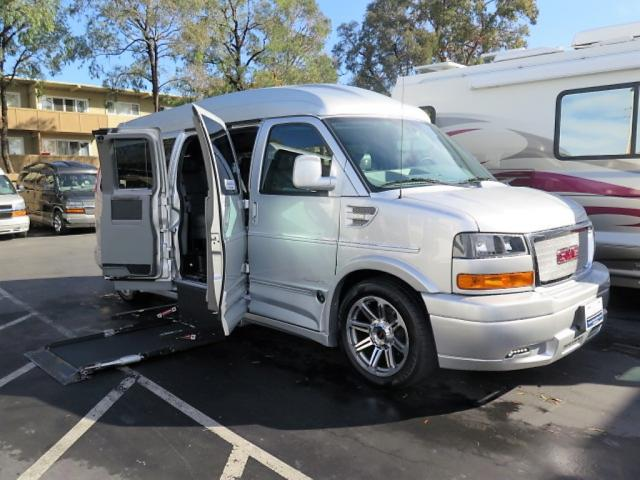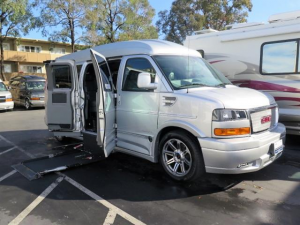 2019 GMC SAVANA 2500 EXPLORER BRAUN UVL
If you're looking for a brand new mobility van, the 2019 GMC Savana 2500 Explorer Braun UVL will steal the show! BraunAbility has a strong reputation as an industry leader in the wheelchair conversion sector. The UVL, which stands for Under Vehicle Lift, is a quality wheelchair ramp that deploys at the touch of a button, taking up minimal space.
Top features include a state-of-the-art entertainment package (DVD/flat screen TV combo), premium leather seats, heated and power lumbar seats, center cooler, navigation system, solid wood trim accents, and more.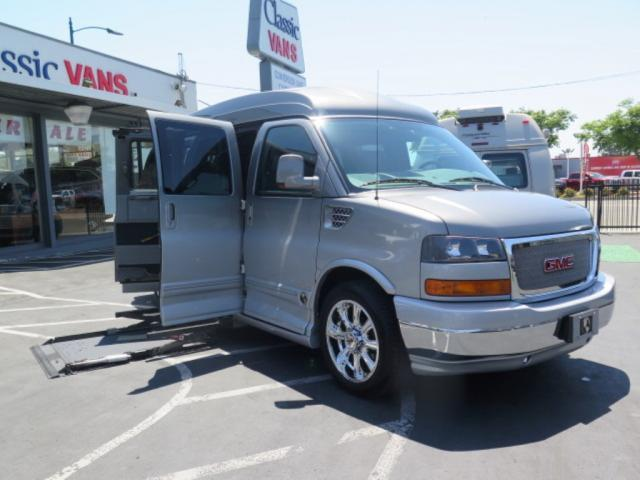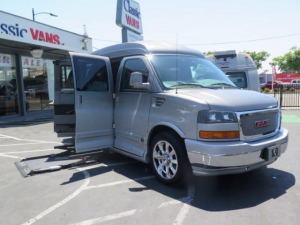 2011 GMC SAVANA 2500 EXPLORER BRAUN UVL
With mileage under 50,000, this 2011 GMC Savana 2500 Explorer Braun UVL is in fantastic condition! Silver Fade exterior and Grey Fade interior give this gently used full-size wheelchair van a modern look. Equipped with a UVL by Braun, rest assured that this van offers the best of quality in wheelchair van equipment.
Other features include a large flat-screen TV, wood trim accents, and power-rear sofa.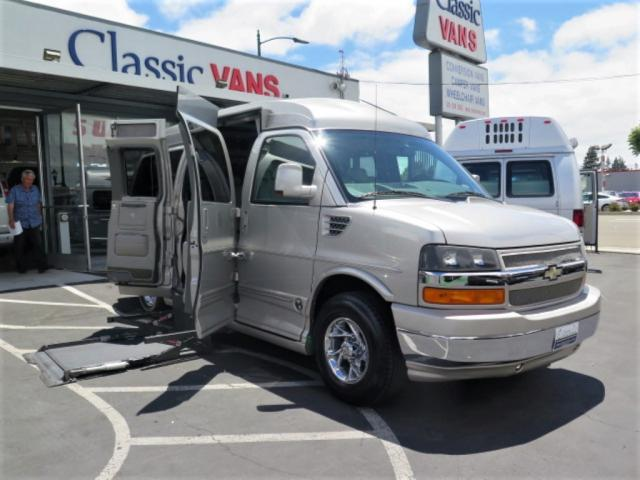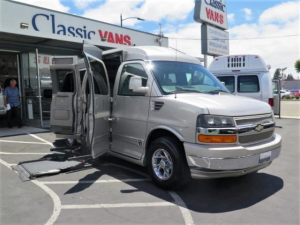 2008 CHEVROLET EXPRESS 1500 BRAUN UVL
This 2008 Chevrolet Express 1500 Braun is gently used, with just under 30,000 miles. The UVL is hearty and reliable enough to last you many more years. Beautiful on the outside, as well as clean on the inside, you're sure to be comfortable and stylish with its silver exterior, raised roof, and wood grain trim in its interior. Enjoy the sun roof and current body style.
Searching for your next full-sized mobility equipped van?
Classic Vans is Northern California's premier dealer of new and used conversion vans, mobility vans and motorhomes. For over 30 years, we've proudly served the San Francisco Bay Area and the entire country with quality custom conversions.
Don't live on the West coast? No Problem! We offer low-cost nationwide van-delivery.