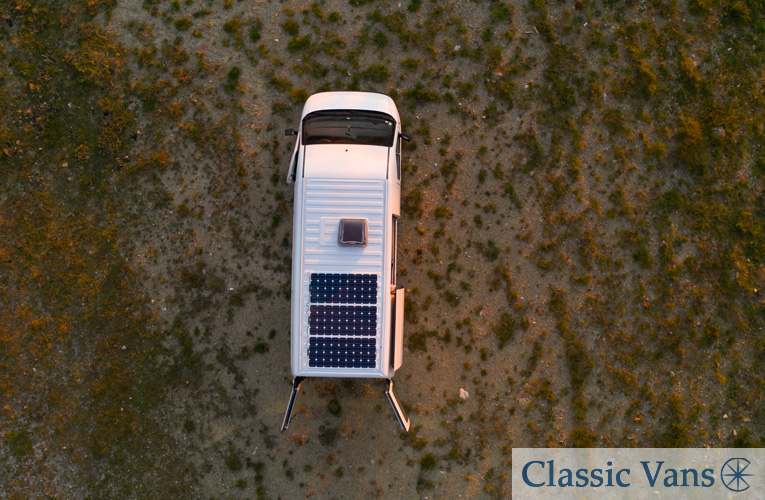 A team of Dutch students recently completed a 1,800-mile road trip in a homemade solar-powered motorhome. The rig, which appears to be a very futuristic campervan, was built over many months by 22 students at the Eindhoven University of Technology in the Netherlands.
The one-off motorhome, named "Stella Vita," was designed and built solely by the students themselves. Starting in late September 2021, several students from Solar Team Eindhoven started the trek from the Netherlands and ended in October in Tarifa, Spain's most southerly city.
But don't say the C-word (campervan) around these intrepid students! They refer to their creation as a "self-sustaining house on wheels." Design and construction began in September 2020, with an aim to make the rig as lightweight and aerodynamic as possible while still retaining a pleasing shape. An extending roof allows for people to stand when the rig is parked, and it can be lowered during travel for a more streamlined efficiency.
The rig's roof is primarily made up of solar panels, and a side awning (which is also made of solar panels in the same curved shape as the roof) can slide out parallel to the camper to aid in solar charging by effectively doubling the square footage of solar gathering ability.
According to the student team that built Stella Vita, the camper can cover just over 450 miles on a sunny day, and it can hit a top speed of 75 miles per hour. A 60-kilowatt battery allows the camper to travel up to 370 miles in the dark. The futuristic vehicle also has an advanced power-monitoring system that allows a person to see just how much power they are using to drive the rig, watch television or cook.
Shaped like a jelly bean, the innovative solar vehicle was built with a double bed, bathroom with shower, kitchen and sitting area. The Stella Vita was designed for just 2 people to travel and camp in, so space inside the rig is tight. While solar power was the primary means of motivating the Stella, it also came equipped with a regular battery charger to juice the batteries from any charging port or outlet.
While this van isn't being mass-produced and isn't available on this side of the pond quite yet, it's projects such as these that help spark the next innovation of RV technology and capabilities.
Tesla, are you taking note?
Check out this Guardian article for pictures and more details about this impressive solar-powered motorhome.
Solar technology for modern RV, motorhomes and campers
While most modern camper vans don't come with an entire roof made of solar panels (yet), there are lots of solar options for RVs today more than ever before. Solar power for batteries makes off-grid and boondocking much more comfortable, a feature many RVers desire.
Popular solar accessories include the Renogy 100 watt 12-volt flexible solar panel or the 2-panel bundle plus battery charging controller. These solar panels could power your entire rig for… well, as long as the sun is shining! Another well-reviewed option is the Jackery portable solar panel and its companion portable power station.
Current manufacturers that build camper vans with integrated solar options include major manufacturers like Winnebago and Airstream, as well as smaller custom builders like Tommy Camper Vans and Am Solar, which do solar van conversions.
For a comprehensive rundown on just how a solar-powered rig can come together, take a look at this VanLife Tour video that explains how to DIY build a solar-powered rig on a budget. The video is from 2016 so some of the technology is already outdated, but still offers great insight and ideas.
Rest assured that Classic Vans keeps our lot stocked with all of the latest and greatest in RV and motorhome technology.
If you're ready to begin your solar-powered van life journey, you can always count on Classic Vans for an inventory full of ready-to-adventure campervans and motorhomes. Look through our online inventory and schedule your personalized tour of our lot. Classic Vans is a family-owned dealership that has specialized in new and used conversion, mobility and camper vans for more than 30 years.