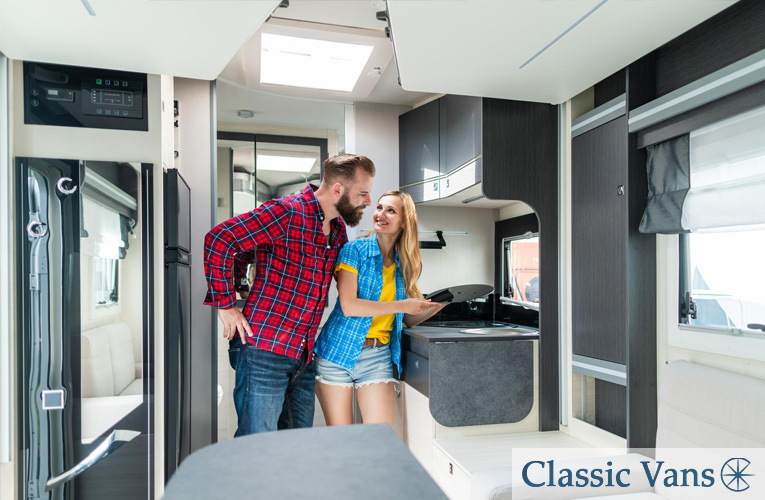 Do you have a chaotic, disorganized kitchen? If so, you're not alone. Figuring out how to prepare meals in a messy or congested kitchen is a common issue in many American households—and it can become even more challenging when you live in a small space.
Your conversion van should be just like your home—welcoming, convenient and easy to maintain—so you can spend your free time enjoying life, not struggling against it. That's why it's so important to have an organized kitchen.
Here are 5 simple steps to organizing the kitchen in your conversion van.
Use drawer dividers or bins
Drawer dividers and small bins are essential to keeping a conversion van kitchen in order. They keep your items separate, so they're easy to locate, and they also prevent them from shifting during travel. Bins also make it quick and convenient to carry a group of items, like cooking supplies, outside to a campfire without having to gather the items individually.
Small storage bins come in a variety of sizes, materials and prices, so it's easy to find some that fit your needs and budget. Just make sure to measure your drawers or cupboards before you purchase any storage items so that you can make the absolute most of your space.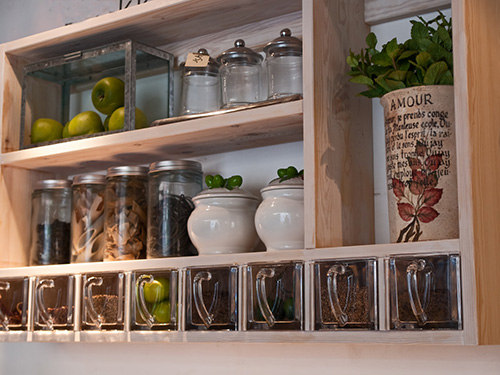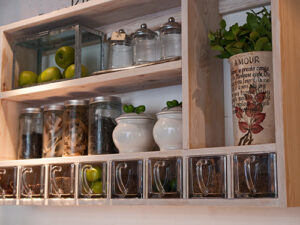 Utilize wall and door space
When you're living in a small space, it's important to make every surface count. That's why we suggest taking advantage of any unused areas on walls or the back of doors. Shelving units are economical and fairly easy to install. You may also want to install a magnetic board to hang larger utensils and knives.
If you're concerned about your kitchen looking messy with so many items out on display, mason jars can be an attractive way to display pantry items and dry food. You can even permanently attach the lids with a screw to the top of cupboards or the ceiling, which allows you to unscrew and screw the jars while leaving the lids in place—no more lost lids!
Install pop-up shelving or cutting boards
Another great use for unused wall and door space is pop-up shelving or cutting boards. These allow you to have additional counter space that can be folded away when not in use without taking up extra storage space. Consider attaching spring-loaded hinges to the back of a door and a cutting board to create an extra prep surface too.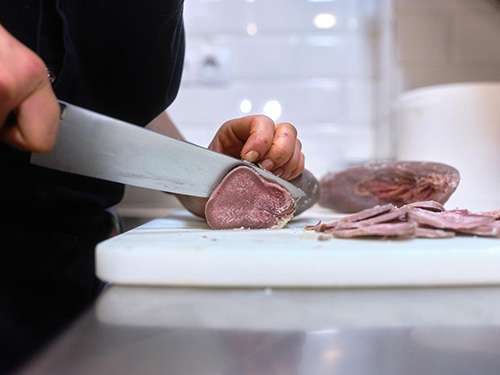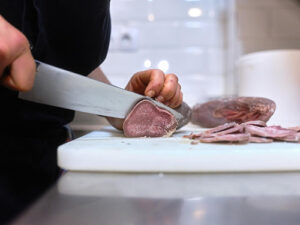 Cover your sink 
We all know counter space in a kitchen conversion van is limited, so don't let the sink area go to waste. Make or buy a sink cover to fit over your sink, or simply buy a cutting board that's slightly larger than your sink to use as extra prep space when your sink's not in use. And bonus—it can even double as a food or laptop tray when you're done preparing a meal.
Use drawers for added prep space
In addition to your sink, pulling out a drawer and covering it with an oversized cutting board is another great way to add prep space to your kitchen without adding extra clutter. Rather than messing around with a folding table that you have to set up and store, simply remove the cutting board, shut your drawer, and your cleanup is done.
Once you've organized the kitchen in your conversion van, you'll be able to spend less time searching for ingredients and more time enjoying the benefits of living life on the road.
If your current van or RV is ready for an upgrade, contact the experts at Classic Vans today. We're proud to be America's #1 new and used conversion van, camper van and wheelchair accessible dealer. Family owned and operated for over 30 years, we offer a variety of new and used vehicles to suit your individual needs.
We also offer nationwide delivery, so contact us to find your dream van today.