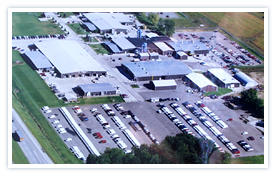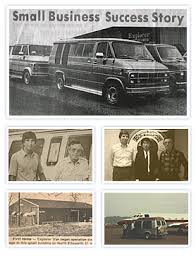 For almost 40 years, Explorer Van Company has been specializing in the manufacturing of quality conversion vans. The company motto since 1980 has remained " DELIVER MORE, NOT LESS, THAN WE PROMISE."
Decades later, Explorer Van Company is the country's number one producer of luxury conversion vans. Explorer works with automotive powerhouses such as GMC, Chevrolet, Ford and now Mercedes Benz.
Explorer Vans: A History of Excellence
The story of the Explorer Van Company is one of the American Dream.
Bob Kessler, founder of the company, had the idea to start the company after falling on hard times. His idea was to turn his failing car dealership into a company dedicated to building the industry's best conversion vans.
Bob's son, Steve, happened to be delivering vans part-time for Coachmen Motors. After purchasing their first van chassis from a car dealer in Detroit, the two decided to built the first Explorer Van prototype.
Steve Kessler had made quite a few friends at various dealerships during his time working for Coachmen. Ken Behlmen was one such friend and happened to own one of the world's largest van dealerships in St. Louis, Missouri. Ken became interested in Bob and Steve's van business. He took note of the high quality craftsmanship and attention to detail put into their initial vehicles.
The first Explorer van Ken purchased sold in less than a week. People were fond of these vans and Explorer started to become a brand name.
Initially, the Kessler's were building their vehicles in Bob's father's empty Zeibart building. As production increased due to popularity, the Kessler's had to find a larger venue.
Since 1985, the Explorer Van Company has been located at 2749 N. Fox Farm Road in Warsaw, Indiana. They currently employ over 100 craftsmen and over half of the staff has been with the company for at least 15 years.
Explorer HQ: Warsaw, Indiana
Explorer Van builds just about every part of their van in-house. Computerized machines cut carpeting to precise measurements. All leather features are die-cut as well as the foam for seating.
Explorer features a vacuum form plant where the molds are built specific to each vehicle. Within the plant there's a paint shop that uses a base coat, clear coat system. The spectacular wood grain finishes that you find in Explorer Vans are actually General Motor's products that are taken and finished by skilled craftsmen so they fit just perfectly to the specific vehicle.
Check out this video for a glimpse into the Explorer Van Company plant: https://youtu.be/MQwhCrip43g
Searching for your next luxury conversion van by Explorer? Interested in building your own Explorer Van? Look no more! Classic Vans is California's largest dealer of conversion vans by Explorer Van Company. Within weeks your van will be built and delivered to your door.
Since 1988, we've had a special relationship with the Indiana-based manufacturer. We carry both new and pre-owned quality Explorer conversion vans as well as class B motorhomes and mobility-equipped vans. Contact us today and drive away with the van of your dreams!
Don't live locally? No problem! Inquire about nationwide, low-cost van delivery.