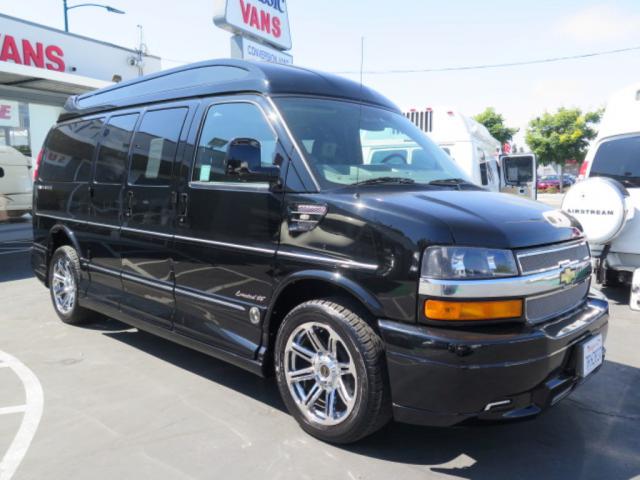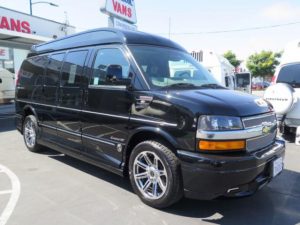 Are you looking for a full sized vehicle that offers both style and functionality? Look no further, the 2015 Chevrolet Express 1500 conversion van by Explorer is sure to wow. Built by the same van makers that produced the van presidential candidate Hillary Clintons uses on the campaign trail, Explorer has been making quality conversions since 1980.
More than 100 craftsmen at Explorer oversee the production of each and every vehicle. This Chevrolet Express was made with the same attention to detail as every other artisan van the Indiana based company produces.
Some of the 2015 Chevrolet Express 1500 Features:
Interior details:
Ambiance:
The interior of this van is exquisite! Fitted with a sport roof and rear power moon roof, the Chevrolet Express 1500 is sure to allow plenty of natural light in. LED indirect lighting along the wood grain detailing and inside the cup holders gives the van an extra sense of sophistication. This van is dying for a night on the town!
Entertainment:
Perfect for those needing a vehicle for long road trips, the Chevrolet Express 1500 has all of your entertainment needs met. Complete with a 29" Samsung HDTV and Panasonic blueray DVD player, there will be no shortage of your favorite movies, television shows and videogames. USB charging ports allow you to bring along your iPhone, iPad and laptop as well.
Comfort:
All Explorer vans are manufactured with high end, plush leather interior seating. The front seats in this Chevrolet Express 1500 are heated, they power recline and lumbar with 6 way adjustments. Rear seating folds down into a power sofa, perfect for long trips where a quick nap is much appreciated!
Exterior Details
The Exterior of this van is sleek! 20" alloy wheels and a chrome grill against the jet-black paint make the Chevrolet Express 1500 a standout!
Whether your looking for an elegant, full-sized vehicle with 7 passenger seating for city nights or an everyday family van that can double as the ultimate road trip vehicle, check out the 2015 Chevrolet Express by Explorer. With just 8,104 miles and an asking price of $56,995 this van is quite a deal as well.
Searching for the perfect conversion van for you? Classic Vans in Hayward California has the country's largest selection of new and used conversion vans. They specialize in pairing customers with conversion vans, motorhomes and mobility vans. For 30 years, Classic Vans has been a name you can trust in the van industry. Don't live in California? Ask about low cost nationwide delivery. Call (866)-370-8222 or browse their inventory, www.classicvans.com.