Throwing a tailgate party at your favorite team's game is sure to be a blast this season! Tailgating in your conversion van will take your pre-game extravaganza to the next level — and here's why:
For starters, conversion vans are so great for tailgating because of their versatility and space. Vans can be used for cooking snacks, driving the entire family to game day, keeping the party going in bad weather and much more. They can also be customized to fit your needs.
If you're thinking about purchasing a new or used conversion van for everyday use as well as throwing a tailgate party your friends and family will never forget, here are five reasons why you're making a good choice:
Cold drinks. Nothing says "tailgate" quite like a cooler or fridge full of your favorite cold beverage. Many conversion vans come with built-in refrigerators, perfect for storing your drinks. If the van doesn't come with a refrigerator, you can easily install one. If you also use your van for day-to-day trips and want to save space, conversion vans have plenty of trunk space for a large cooler.
Towing capacity. Conversion vans are also great vehicles for towing heavy items such as trailers, smokers, grills and other BBQ needs.
Television. Maybe you or some of your friends don't have tickets to the game? No problem! You can watch the game while still getting the authentic game day experience by using your conversion van TV. No need to sit on hard rubber or cement seats. Enjoy your favorite team from the comfort of plush leather seats.
Bathroom breaks. Some vans and class B motorhome have bathrooms installed in the back. Don't miss the big play because the line for the porta-potties was too long. If you're serious about tailgating, consider purchasing a van with a restroom.
Plenty of space. Conversion vans have plenty of seating and space for your whole crew of friends. No one gets left out of game day festivities.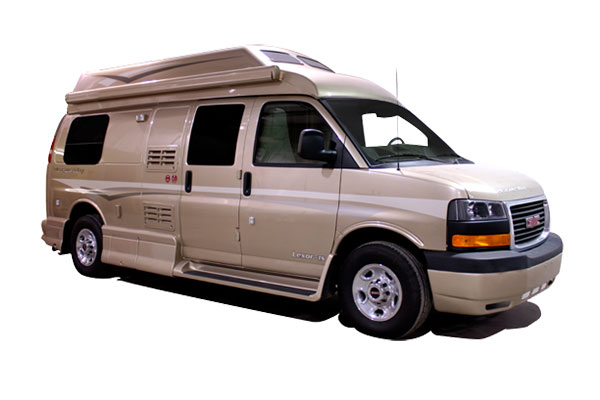 Regardless of which model you choose, there are a few things you can expect to see on ALL Pleasure-Way camper vans, including a private bathroom.
With football season upon us, consider taking your tailgating experience to the next level with a new or used conversion van! For 30+ years, Classic Vans has been family owned and operated, specializing in quality conversion vans, class B motorhomes and mobility vehicles. Contact us if you need help finding the van of your dreams.
Don't live in California? No problem! Inquire about low-cost nationwide van delivery.
Finance options available.