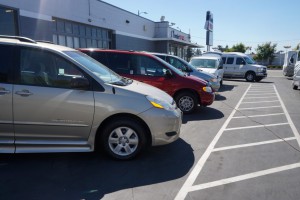 Safety first! Wheelchair vans provide safety, freedom and accessibility to those living with a physical handicap. Mobility equipped vans offer wheelchair users ease and reliability when entering and exciting the vehicle as opposed to an everyday SUV or sedan. If you or a loved one is living with mobility impairment, a wheelchair minivan can greatly improve day-to-day life.
For those who own a wheelchair minivan, they know the benefits are never ending! Wheelchair vans are also a costly investment; maintaining your vans equipment is essential to avoiding any unforeseen costs or maintenance issues. Whether your van is new or old, scheduling bi-yearly maintenance visits can keep you feeling confident and stress free in your van!
You may own a minivan or full-sized wheelchair equipped van. Use the following checklists when going in for your routine maintenance visits. Your auto shop technician should keep an eye out for these issues, however it doesn't hurt to know what to look for.
Wheelchair Accessible Minivans:
Listen for any rattling or abnormal noises when starting or turning off the engine.
Check electrical wiring: frayed or exposed wires should be examined
Check the tightness of ramps motor bolts, hinges and rivets
Make sure that ramp hinges are clean and well lubricated
Make sure the door track and floor area are unobstructed
Check the ramp to make sure its properly deploying
Test the battery
Check the kneel system operation, lubrication kneel, rollers and chains
Examine drain holes to be sure they lock and are free of debris
Verify that tire pressure is posted on 'b' pillar
Check the manual operation of the ramp
Test jump-seat operation, inspect it for tightness, cleanliness and lubrication
Review the door operation system
Check the operation of conversion with all remotes and switches
Check all interior and external lighting
If minivan is equipped with electronic interface or GPS, verify it is properly functioning
Full-Sized Accessible Wheelchair Vans:
Verify electrical wiring is intact (Check for chaffed, frayed or loose wires)
Ensure all hand rails and hand rail fasteners are secured tightly
Make sure battery is functioning properly
Verify all manual back up systems are in working order
Check the vehicle interlock
Ensure control pendant is in proper working order
Listen for any abnormal sounds or rattling
Make sure all moving parts such as rollers, hinges, OEM door lock and door tracks are cleaned and lubricated
Verify that manual back up systems are working accurately
Inspect lift mounts and all support points, make sure they are free of damage and sufficiently tightened
Insure that wheel chair tie-downs manual and power operated are working properly (belt condition, floor track condition, tie down bolts, emergency releases and safety inter-locks)
Inspect the platform roll-stop
Verify that hydraulic power unit and hydraulic systems have enough fluid and are without leaks
Insure that the main lift pivot is properly installed and properly locks into place
Verify that all external lighting including taillights and break lights are working
Verify that all internal lighting systems are functioning
Remaining vigilant about your vehicles operating systems as well as adaptive equipment will help you maximize your investment! Wheelchair accessible vans provide so much freedom and additional comfort to those with disabilities. While mobility vans may be an expensive purchase, the benefits they provide are priceless.
Searching for a new or pre-owned mobility adapted minivan or full-sized vehicle? Classic Vans is the Bay Area's number one dealer in mobility vans, conversion vans and class B motorhomes. For nearly 30 years Classic Vans has been providing the Bay Area with quality vans at affordable prices!
Call (866) 954-3402 or visit www.classicvans.com today and find the van of your dreams!
Don't live locally? NO PROBLEM! Inquire about low-cost, nationwide van delivery.