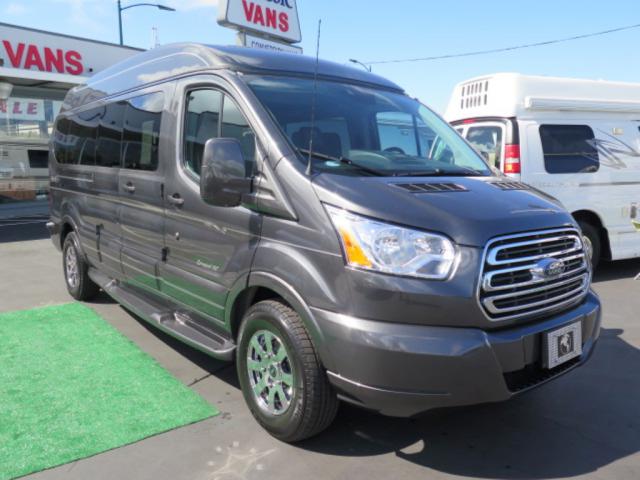 Luxury conversion vans combine comfort, style, space and easy drivability. Its no wonder Conversion van owners tend to be repeat buyers! They know that these vehicles offer far more flexibility and amenities than any other full to mid-sized van or SUV! Whether you use your conversion van for work, as a family vehicle, for travel or for leisure; you are sure to see why owning a van can be a luxury you can actually afford!
Not many other 2017 model vehicles will offer you the same utility a conversion van can. Explorer Van Company has been producing quality van conversions since 1980 in America's heartland. The engineers and craftsman at Explorer put their vision of safety and style in each and every vehicle. Explorer builds custom vans on GMC/Chevrolet/Mercedes Benz and Ford Transit chassis. Every make and model they manufacture upon is nothing but the best the industry has to offer.
The 2017 GMC Savana, Chevrolet Express, Mercedes Metris, Mercedes Sprinter and Ford Transit are the perfect combination of luxury and reliability. Last week we mentioned the 2017 Explorer GMC Savana and Chevrolet Express. The GMC Savana and Chevrolet Express are the company's two most classic conversions. This week we will be looking at the 2017 Ford Transit. The Transit is the Ford motor companies newest make in their full-sized van department, replacing the classic Ford Econoline.
2017 Ford Transit by Explorer
The Ford Transit by Explorer is the newest full-sized van on the market. In the two years since entering the van arena, the Transit has continuously received awards and accolades by consumers and vehicle experts. The 7-passenger model is built on a 150 chassis with a wheelbase of 130". The extended 9-passenger model is built on a 150 chassis with a wheelbase of 148". Both the 7 & 9 passenger models offer plenty of headroom, legroom, cargo space and exciting features!
Safety/Exclusive Features Include:
Brakes- 4-Wheel Disc Anti-Lock Braking System (ABS)
Tire Pressure Monitoring System (TPMS)
Tires: Spare Tire & Wheel
Fuel Tank- 25 gallon mid-ship
Wheelbase: 130"
Roll Stability Control
6-Speed Automatic Overdrive Transmission
Back Up Camera
31 Ration limited slip axle
Advance Trac®
Air Bag- Driver & Front (Second Generation)
Handling Package
Steering-Power
High-Mount Stop Light
AM/FM® Stereo w/4" multi-function display, single-CD, HD and Sirius®/Sirius XM capability
Mirrors, Power LH & RH
5 Eco Boost V6 Engine
Privacy Glass
Leather Seats
Navigation
Power lumbar front seats
USB charging ports
Lighted Drink Holders
Indirect Lighting dimmer switch
Vista Cruiser Sport Roof
29" Samsung HDTV/Samsung Blu Ray Player W/WIFI
110 Game outlet with Inverter and HDMI
Subwoofer for TV Sound System
16" Chrome Wheels with Michelin LT 225/75R16 Tires
The 2017 Ford Transit comes in a wide range of exterior colors and interior trims. Blue jean, caribou, magnetic, shadow black, white, ingnot silver are some of the exterior colors featured on the Transit. Seating colors are antelope, antelope tan/steerhide/black/graphite/grey with graphite. Custom fade paint is available as well in all the featured colors.
Explorer Vans also makes conversions built on 2017 Mercedes Benz Sprinter and Mercedes Benz Metris chassis. Make sure to look for upcoming blogs featuring these makes.
Classic Vans offers a large selection of 2017 Explorer conversion vans as well as pre-owned vehicles. Family owned and operated, Classic Vans is the West Coast's premier dealer in van conversions.
Don't live in California? No problem! Ask about low-cost nationwide van delivery.