Conversion vans offer more space, more luxury and more versatility than any other full-sized vehicle on the road! Conversion vans come with seating capability for 7 to 9 passengers. Plenty of rear cargo as well as interior cabin space allow you to comfortably travel with your loved ones, organization and belongings. Plush, reclining, leather seats as well as a folding sofa ensure you have a pleasant passenger experience. Flat screen TV's, DVD players and USB charging ports give you the option to enjoy entertainment en route to your destination.
Most full sized SUV's such as Suburban's and Expeditions offer half of these features at a much higher price tag!
If you are thinking about purchasing a Conversion Van and would like save a bit of cash, consider looking at a Used Conversion Van. Used Conversion Vans provide many of the same great amenities as their newer models but at a discounted price. Unlike many other used cars, particularly SUV's, Conversion Vans tend to be in better condition when sold or traded into the dealer. Conversion Van owners take a lot of pride in their vehicles and often trade them in for a newer year.
Another benefit to purchasing a Used Conversion Van, is that many models made in recent years have a similarly sleek body style to newer inventory. The Conversion Van look is timeless. Whether you buy new or used, you can be sure your vehicle will maintain its current look in the years that follow.
Take a glance at some of these quality Used Conversion Vans for sale:
2015 GMC Savana 2500 7 Passenger Van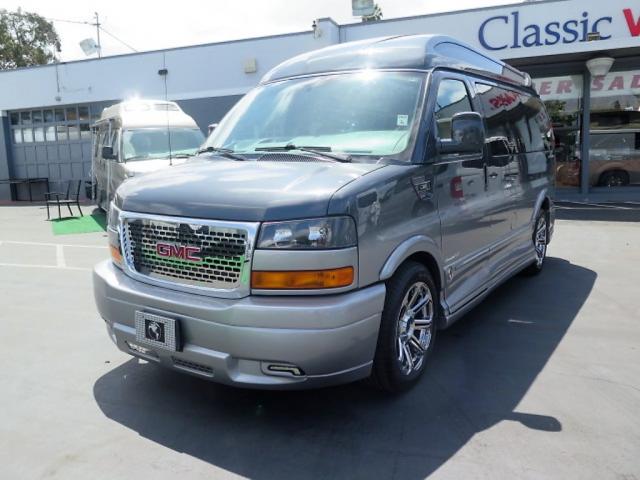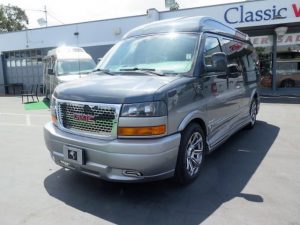 https://www.classicvans.com/used-conversion-vans/799-gmc-savana-2500-7-passenger.html
With barely 23,000 miles, this 7 passenger GMC Savana by Explorer is a great find! The interior and exterior are in excellent condition. Fully loaded and built on a ¾ ton Chassis, this Conversion combines luxury, technology and power. Complete with a Samsung Flat Screen TV, DVD player, sport roof, leather interior, heated seats, LED lighting, Alloy Wheels and Power Rear Sofa, this pre-owned van has it all!
Exterior Color: Silver Fade
Interior Color: Graphite
Model Year: 2015
Mileage: 23,032
Price: $52, 995
2017 GMC Savana 2500 Explorer New Factory DEMO
https://www.classicvans.com/used-conversion-vans/748-gmc-savana-2500-explorer-new-factory-demo.html
If you're looking for a new vehicle but trying to save some money as well, this vehicle is meant for you! This 2017 GMC Savana 2500 by Explorer was built as a Demo, meaning it has been driven around at tested for quality assurance. With only 9,521 miles this Van is practically new and comes complete with top of the line bells and whistles. Complete with USB ports, OnStar technology, LED lighting, large flat screen TV, heated seats and much more.
Exterior Color: White/Silver
Interior Color: Grey
Model Year: 2017
Mileage: 9,521
Price: $58, 995
2007 GMC Savana Explorer Conversion Van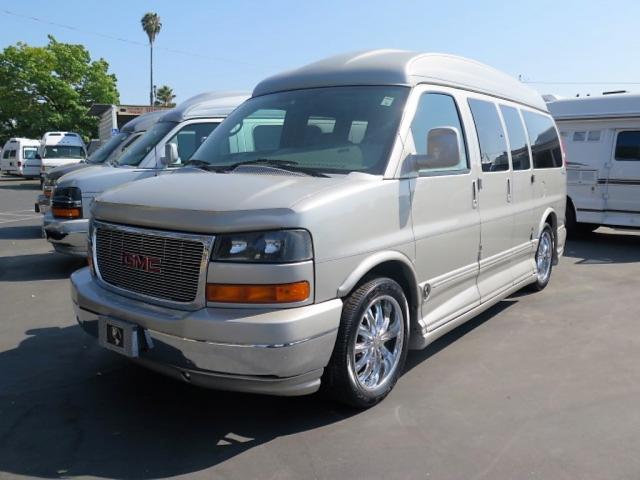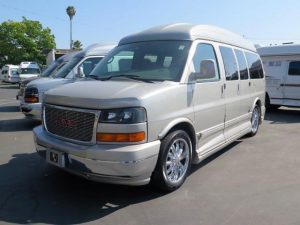 https://www.classicvans.com/used-conversion-vans/841-gmc-savana-1500.html
This 2007 GMC Savana Explorer is in excellent interior and exterior condition! Equipped with leather seating, a large flat screen DVD, sport roof, walnut wood décor trim and a power rear sofa, this pre-owned van has everything you could need!
Exterior Color: Silver
Interior Color: Grey
Model Year: 2007
Mileage: 12,494
Price: $29,995
2013 GMC Savana Explorer Conversion Van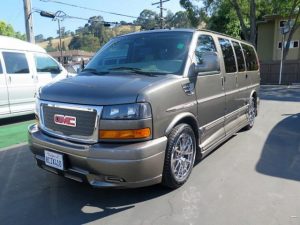 https://www.classicvans.com/used-conversion-vans/743-gmc-savana-1500-explorer.html
This low top Conversion Van is clean and sleek, inside and out! If fitting your conversion van inside your garage is a concern, at 82", this vehicle should fit very nicely. This van features walnut wood accents, warm, tan leather interior, front seats with 8-way adjustment capabilities, a flip down TV and even a small table that can be placed in front of the rear sofa.
Exterior Color: Bronze
Interior Color: Tan
Model Year: 2013
Mileage: 49,334
Price: $38, 995
Searching for a pre-owned conversion van? Classic Vans is California's largest dealer of new and used conversion vans, mobility equipped vans and motorhomes. For 30 years Classic Vans has been family owned and operated, specializing in pairing customers with the Conversion Vans of their dreams!
Don't live in California? No Problem! Inquire about low-cost, nationwide van delivery.
Financing available!