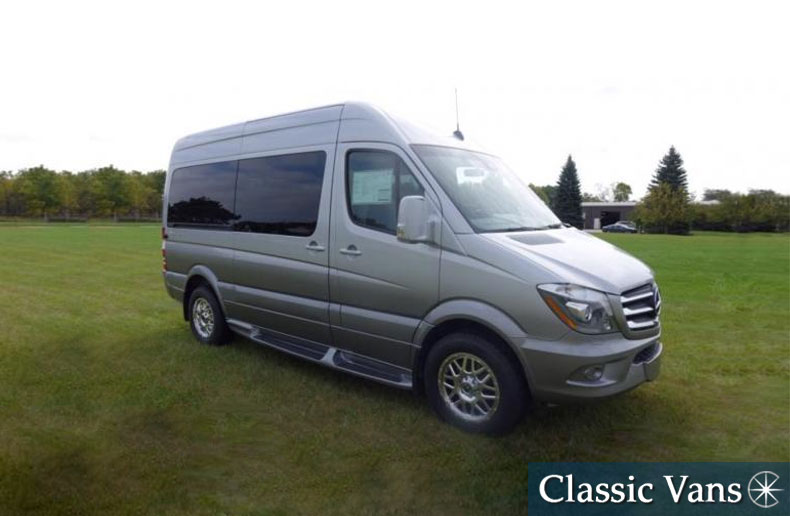 Mercedes-Benz Sprinters are some of the most popular conversion vans on the market. The automaker has paired luxury with utility and function when designing the Sprinter.
Many individuals, couples, and families have purchased Sprinters and use them for a variety of purposes — from family vehicles and campervans, to work vans and cargo vehicles for transporting goods.
The Sprinter by Explorer Vans is offered in two models: raised roof (high top) and low roof (low top).
Depending on what you plan on using your van for, you may find that one model better suits you.
Raised Roof Sprinters
Raised roof Sprinter for surfboards (top left); for camping (bottom left); for bikes (right)
Sprinter vans with raised roofs offer excellent space and headroom. The overall height of the raised roof Sprinter is 107 inches (just under 9 feet) and 80.8 cu. ft. of cargo room. The rear door height reaches 72.4 in. (6 ft.), allowing for easy head clearance. Once inside, passengers have 75.5 in. (over 6 ft.)  of interior stand up space.
Typically, those looking to use their conversion van for sporting or travel purposes prefer this raised roof model. Many high-top Sprinters are converted into surf vans or vehicles for road bikers and long-term campers.
Lowered Roof Sprinters
The overall height of the lowered roof Mercedes Sprinter is 95 inches (7 ft. 9 in.), giving it a lower profile than the raised roof model. The low top model features 68.6 cu. ft. of cargo space, while interior height tops out at 5 ft. 3 in.
Many folks use their Sprinters as a family vehicle, for work purposes as well as for camping and other outdoor activities. In short, it's a versatile vehicle that's perfect for trips around town as well as much farther destinations.
Which Model is Right for You?
Both the high-top and low-top versions of the Sprinter are available in 4-wheel-drive versions and have a width of 95 inches. Both models also have a towing capacity of 5,000 pounds and horsepower of 161 at 3800 RPM.
Ultimately, determining which model is best for you and your family depends on your individual needs. Consider how you'll be using the van and decide if the extra head room is worth the cost.
Whether you're planning on using your Sprinter for travel, work or as a family van, at least you'll have comfort, style and ruggedness all in one!
Looking to buy a Sprinter or other conversion Van? You've come to the right place! Classic Vans is California's premier dealer of new and used conversion vans, campervans, and mobility vans. Contact us or continue browsing our site to find the van of your dreams today!
Don't live in California? No problem! Learn about our low-cost nationwide van delivery.