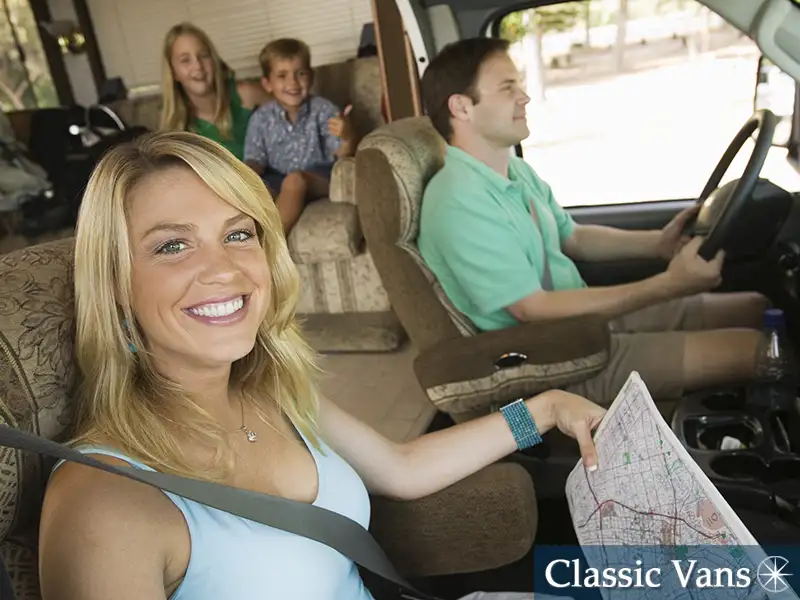 Planning a memorable road trip in your RV? Before you hit the open road, it's essential to familiarize yourself with the rules and regulations that govern RV travel. From seat belt laws to parking limitations, understanding these guidelines can ensure a smooth and enjoyable journey.
Whether you're a seasoned RVer or embarking on your first adventure, this article will guide you through the essential RV rules and laws across the U.S. so you can navigate your way to a hassle-free and unforgettable trip.
Is it illegal to take off my seat belt in an RV while it's moving?
RV seat belt laws can vary from state to state, but in general, drivers and passengers are required by law to wear seat belts while a vehicle is in motion. Currently, New Hampshire is the only U.S. state that doesn't require seat belt use.
If your RV is equipped with seat belts, it's important to wear them at all times while the vehicle is in motion, just like in any other motor vehicle. Safety should always be a top priority, and wearing seat belts significantly reduces the risk of injury in the event of an accident or sudden stop on the road.
Do I need to put my child in a car seat in an RV?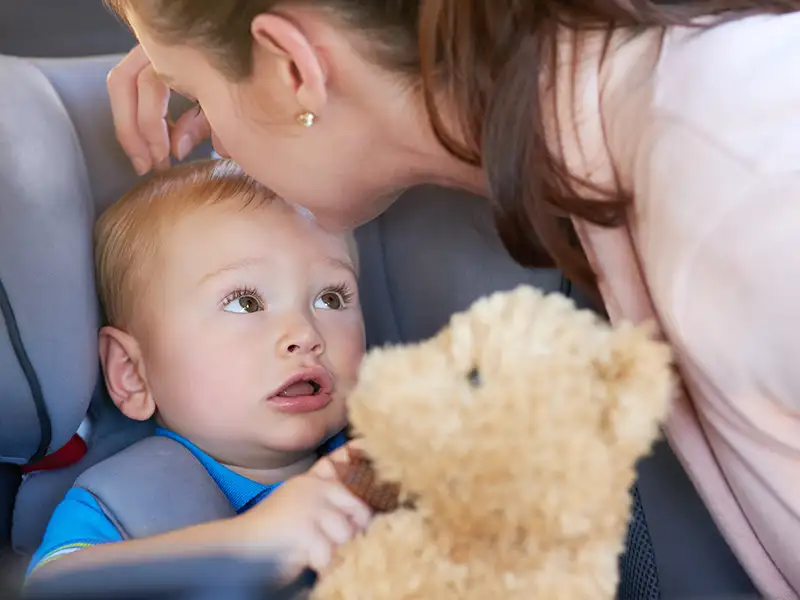 In most states, the same child passenger safety laws that apply to regular motor vehicles also apply to RVs. This means that if your child is below a certain age, weight, or height, they're likely required to use a car seat while traveling in an RV.
Always follow the car seat manufacturer's instructions for proper installation and usage. Securely fasten the car seat to the RV's seats, and ensure that the child is correctly harnessed or restrained according to the car seat's specifications whenever the RV is in motion.
Can we watch TV while traveling in an RV?
As long as the TV is able to be powered on safely while the RV is on the go, it's alright for passengers to watch TV while traveling in an RV, except in cases where the TV will block the driver's view or cause the driver to be distracted due to the noise.
Are passengers allowed to use the bathroom in an RV while it's moving?
In general, no passengers should use the bathroom in an RV while the vehicle is moving. Most Class A and Class B RVs have bathrooms that are functional while on the move, and technically, someone could use the bathroom while traveling.
However, this practice could be considered illegal in some states, as it's the law to be buckled in while moving. It's always preferable to pull over or use designated rest stop areas instead.
Are passengers allowed to walk around in an RV while driving?
No, all passengers are required to be buckled up anytime the RV is in travel mode. Bumps and other hazards on the highway could cause someone to fall or strike against hard objects or sharp corners if they're walking around while the RV is in motion.
Remember that even a small bump in the road could knock someone off balance, causing them to sustain a serious injury.
Are passengers allowed to sleep in an RV while it's moving?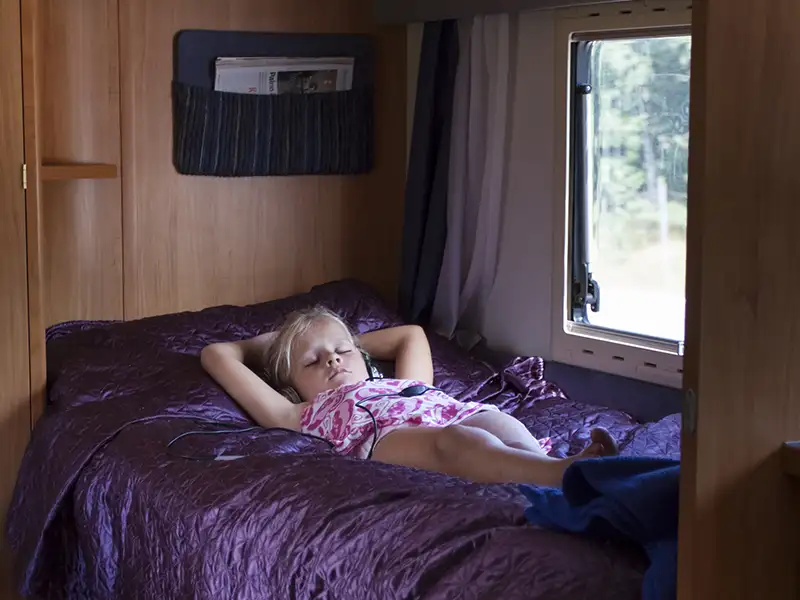 In general, passengers are not allowed to sleep in an RV while it's moving. Just like in any other motor vehicle, all passengers should be seated properly and wear seat belts while the vehicle is in motion. This is for safety reasons, as sleeping or moving around in a moving RV can be hazardous and increase the risk of injury in the event of an accident or sudden stop.
If someone needs to unbuckle their seat belt to rest or take a nap, it's best to pull over in a safe location and stop the vehicle before allowing them to do so.
Are passengers allowed to cook in an RV camper while driving?
This is an absolute no. It's very dangerous to cook while inside a moving RV camper. Most of these stoves use propane, and this could cause a dangerous explosion or release of unwanted fumes if something goes wrong.
In addition, it's easy to get bumped or knocked around, potentially causing a body part to come into contact with hot burners, pans, grease or liquids. The risk of serious burns and other possible injuries is too great.
Can I run my generator while driving an RV?
Yes, in most instances, you can. Many RVs have generators, but a few do not. If your RV has a generator, it's usually safe to use while driving.
However, the generator will use more fuel when the RV is in motion, so running the generator while operating the RV can result in higher fuel costs overall.
Can I be inside my pull-behind camper while driving?
No, it is illegal for someone to be inside a pull-behind camper while driving. This is a dangerous activity, and the added weight can also cause the camper to sway more and alter how it handles while being towed. There is also the possibility of the mount used for towing becoming dislodged, posing an incredibly dangerous situation that could result in serious bodily injuries and even death.
Can I park my RV overnight at a rest area?
The ability to park an RV overnight at a rest area varies depending on the state and the specific rest area's policies. To determine whether overnight parking is permitted at a particular rest area, you should check the rules and regulations posted at the rest area itself or consult the state's Department of Transportation website for information on rest area policies.
In some cases, states may limit overnight parking to a certain number of hours, or they may have designated areas specifically for RV parking. Additionally, some rest areas may have restrictions based on the length of your RV or the availability of space.
If overnight parking is not allowed at a rest area, consider other options such as campgrounds, RV parks, or Walmart parking lots, which are known to be more accommodating to RVers needing a safe place to park overnight.
What's the 330 or 3 3 3 rule?
The 330 rule, or 3/3/3 rule, is an excellent method to make your RV trips safer while conserving energy at the same time. The general idea of this rule is to only travel 300 miles per day, arrive at your camping destination by 3 p.m., and remain at the campsite for 3 days.
Most RV campsites have staffed hours until around 3 p.m. Arriving before this time can help you avoid dealing with complicated after-hours check-in procedures and give you plenty of time to set up camp. Staying for 3 days can often lower costs, and this method can save time and energy, allowing you and your family to rest and unwind before resuming your journey.
What's the 2 2 2 rule?
The 2 2 2 rule is similar to the 330 rule, except the miles traveled in a single day are decreased to 200, and you should plan to take a break every 2 hours while driving. In addition, you should attempt to arrive at your campsite by 2 p.m. and plan to stay at your overnight camp area for 2 days if possible.
Following the 2 2 2 rule not only helps keep the driver alert but also helps you identify potential issues with your RV, like low tire pressure, before they become full-blown problems.
How Alabama House Bill 555 affects RVs
Alabama House Bill 555 is an amendment to an existing code that dates back to 1975. This new bill gives campground owners more legal power to have unruly guests removed from their property.
The bill aims to put RV campsites on the same level as other travel accommodation properties like motels, inns or hotels, making it possible for campground owners to get help from police, if necessary, when rowdy campground visitors refuse to behave or leave when asked to do so by management.
Let Classic Vans help you make your next road trip even better
Now that you're up-to-date on all the latest rules while traveling in your RV, why not consider upgrading your RV before your big trip? At Classic Vans, we have a huge selection of RVs and camper vans to choose from, all of which come with our low-cost nationwide delivery.
Family-owned and operated since 1988, we're proud to be America's #1 new and used conversion van, camper van, RV and wheelchair-accessible dealer.
Contact us today or check out our website to view our current inventory.