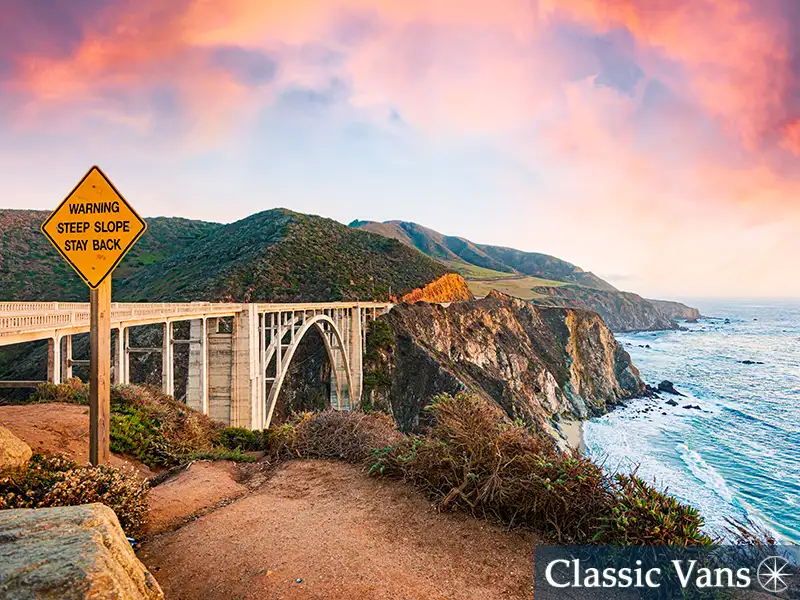 Everything you need to know when planning your next road trip to Big Sur
When it comes to embarking on a memorable campervan road trip in the U.S., few options can match the enchantment of Highway 1.
Spanning 600 miles along the mesmerizing coastline between San Francisco and Los Angeles, this scenic highway unveils a treasure trove of captivating destinations, and nestled among them lies the legendary Big Sur. This section of the Pacific Coast Highway 1 is a true spectacle, with its majestic cliffs and verdant inlets that paint a picture of untamed beauty.
Big Sur beckons adventurers with an array of exhilarating activities like whale-watching for blue whales, gray whales and humpbacks. For those seeking terrestrial delights, the McWay Waterfall Trail offers a picturesque hiking experience with stunning views of the 80-foot waterfall cascading into the rhythmic embrace of the Pacific tides. Adding to the allure are the serene redwood forests with luxurious accommodation resorts, offering an oasis of relaxation complete with private hot tubs, spas and so much more.
When is the best time to visit Big Sur?
The ideal window to visit Big Sur is from September to November, when the crowds thin out and the temperatures become milder. This is also the optimal time to go off-grid camping.
How long does it take to drive through Big Sur?
Without stopping, you may drive from one end of the famed Big Sur coastline to the other in a few hours. However, if you're a fan of scenic drives, you will need a minimum of 2 days for your road trip due to the sheer number of breathtaking sights and activities.
Is it better to drive north or south through Big Sur?
When you embark on your Big Sur camping road trip, it's better to travel from north to south. This way, you can enjoy the remarkable beauty of the Pacific Ocean as it unfolds before your eyes, offering unobstructed views that are simply breathtaking. To fully savor this experience, begin your journey in Carmel, where you can soak in the enchanting vistas right from the start.
However, if it suits your plans better, you can also drive from south to north. Along the entirety of the Big Sur coast, there are many pullouts where you can pause at your leisure to indulge in the amazing coastal views. There are also numerous campervan-friendly beaches for you to enjoy.
What should I pack for a trip to Big Sur?
For your trip to Big Sur, make sure to pack the following items:
Activewear. Big Sur's weather can be unpredictable, so pack lightweight layers that you can easily add or remove as needed. Don't forget a jacket for protection against the coastal wind and rain showers.
Comfortable walking shoes or hiking boots. Since Big Sur is renowned for its beautiful hiking trails, it's essential to have sturdy and comfortable footwear. Opt for hiking boots or trail shoes with reliable traction.
Outdoor essentials. Bring sunscreen, a sun hat, a water bottle and a small daypack to enhance your experience while exploring Big Sur's trails and viewpoints.
Bathing suits. During the summer, Big Sur can warm up, so it's a good idea to pack a bathing suit for any spontaneous swimming opportunities.
Basics. Remember to bring any necessary prescription medications, along with a first aid kit containing items such as band-aids, adhesive tape, antiseptic ointment and pain relievers. Also, don't forget your toiletries like a toothbrush, toothpaste, soap, shampoo and conditioner.
The best places to visit in Big Sur
Whether you've been living the van life for a while or are just thinking about getting started, here are some of the best places to stop on your next Big Sur camper van road trip.
Start your next road trip to Big Sur in style
If you're looking for a new or used camper van, conversion van or RV for your trip to Big Sur, check out our wide selection at Classic Vans. At Classic Vans, we can help get you into the van of your dreams. We're proud to be America's #1 new and used conversion van, camper van and wheelchair-accessible dealer. Family-owned and operated since 1988, we offer low-cost nationwide delivery.
Contact us today or check out our website to see all we have to offer.