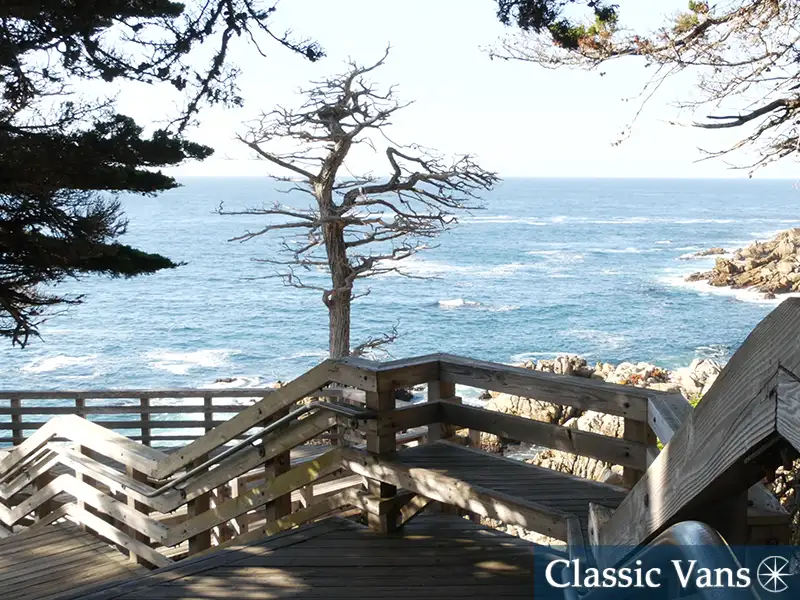 Everything you need to know for the ultimate road trip to the Monterey Peninsula
A road trip around the Monterey Peninsula is an unforgettable experience. Prepare to embark on a tour that will awe your senses and leave you with unforgettable memories. Whether you're a nature enthusiast, a history buff or someone simply looking for a relaxing vacation, this article will highlight some of the key things you need to know about the Monterey Peninsula.
Overview
The Monterey Peninsula exudes a distinctive charm that sets it apart from any other corner of California. Long before the Spanish explorers arrived in 1602, the Rumsen Ohlone tribe thrived here. Today, this coastal region strikes a harmonious balance between the relaxed vibes of Southern California and the refined sophistication of the North.
As you make your way to the northern side of the peninsula, the town of Monterey awaits, drawing in tourists with its irresistible allure. On the southern end, Carmel-by-the-Sea beckons a more affluent easygoing crowd. The awe-inspiring coastline is meticulously preserved, a testament to the premium placed on real estate and ensuring the nurturing of a tight-knit community atmosphere.
What is the ideal time to visit the Monterey Peninsula?
For an enjoyable trip to Monterey, consider planning your visit between April and May. During the spring season, you'll enjoy warmer temperatures, fewer crowds and the opportunity to savor delectable eats at food festivals. Summer is also an ideal season to visit, but keep in mind that despite the strong sun, it can still be a bit chilly due to the ocean's proximity.
Is it possible to get around Monterey without a car?
Monterey has various public transit choices for those who don't own a car. These include the following:
Bicycles. Monterey offers bike-friendly infrastructure, and you can explore the place by bicycle. Many streets are set up with bike lanes, and the city also has bike rental services.
Walking. Monterey is a compact city with several popular sights to visit on foot. Walking is a fun way to discover the area's scenic beauty and get exercise at the same time.
Buses. The Monterey-Salinas Transit system serves the Monterey Peninsula, including Monterey, Carmel, Pacific Grove, and other adjacent communities. MST has a variety of routes and schedules, making it easy to travel within the region.
The trolley. Located in the heart of Monterey, the MST Trolley isn't only convenient—it's free. The route covers Downtown Monterey, Cannery Row, Fisherman's Wharf and the Monterey Bay Aquarium.
Best places for campers in Monterey
If you're planning a trip to Monterey in your camper van or RV, here are some of the best places to stay.
Moss Landing KOA Express
The Moss Landing KOA Express is an ideal spot for a camper van road trip and exploring Monterey, Santa Cruz and Monterey Bay. While the amenities may be more limited compared to other options, this KOA Express is big rig-friendly and offers 50-amp electrical service. Stay connected with WiFi, cable TV and excellent cell phone coverage.
Marina Dunes RV Park
Marina Dunes RV Park, an Encore resort in the Thousand Trails network, offers stunning ocean views just 15 minutes north of Monterey Bay. Here, you're greeted by crashing waves and convenient beach access. With its proximity to Monterey, Pebble Beach, Big Sur and Carmel, it's the perfect location to explore the California coast. The Marina Dunes RV Park offers an ideal atmosphere for lovers of the van life.
Monterey County Fairgrounds RV Park
Situated just minutes away from Old Fisherman's Wharf, Cannery Row, and the Monterey Bay Aquarium, this location offers unparalleled proximity to major attractions. While it primarily provides a parking lot-like experience with hook-up facilities, it compensates with easy access to a golf course and other local attractions.
Santa Cruz/Monterey Bay KOA Holiday
The Santa Cruz/Monterey Bay KOA Holiday serves as an excellent base camp for your West Coast adventures. Offering 174 sites catering to various camping preferences, including full hook-ups, pull-throughs, and camping spots, this campground ensures a comfortable stay.
Monterey Pines RV Campground
Monterey Pines RV Campground is a year-round campground serving military members and their families. Nestled amidst serene pine trees, it offers a peaceful atmosphere. The campground provides full and partial hook-up sites, a bathhouse and a coin-operated laundry facility.
Best locations to visit in Monterey Peninsula
We know you're not traveling all the way to Monterey just to sit in your camper van all day. So below, we've highlighted some of our top spots to visit during your trip to the Monterey Peninsula.
Free things to do near Monterey
Who says that fun has to be expensive? If you're looking for some free or almost-free adventure in the Monterey Peninsula, we've got you covered:
Enjoy the weather. Take advantage of the consistently splendid weather in this destination and immerse yourself in the great outdoors.
Go for a walk on the beach. Give your legs a treat by strolling or jogging along one of the many picturesque beaches like Del Monte Beach, Lovers Point Beach or Spanish Bay Beach.
Path of history. Embark on a captivating journey through time as you meander along the Path of History in downtown Monterey. Marvel at the charm exuded by the historic adobe buildings and lose yourself in the serenity of the carefully manicured gardens that grace your path.
Enjoy some food. Treat your taste buds to a local sensation by sampling the renowned clam chowder, lovingly prepared by several restaurants nestled along Old Fisherman's Wharf.
Bird watching. Grab your binoculars and embark on a birdwatching escapade at Carmel River State Beach, Garland Ranch Regional Park, and Elkhorn Slough National Estuarine Research Reserve.
Need a new camper or conversion van for your Monterey Peninsula road trip?
If you're looking for a new or used camper van, conversion van or RV for your trip to the Monterey Peninsula, check out our wide selection at Classic Vans. At Classic Vans, we can help get you into the van of your dreams. We're proud to be America's #1 new and used conversion van, camper van and wheelchair-accessible dealer. Family-owned and operated since 1988, we offer low-cost nationwide delivery.
Contact us today or check out our website to see all we have to offer.