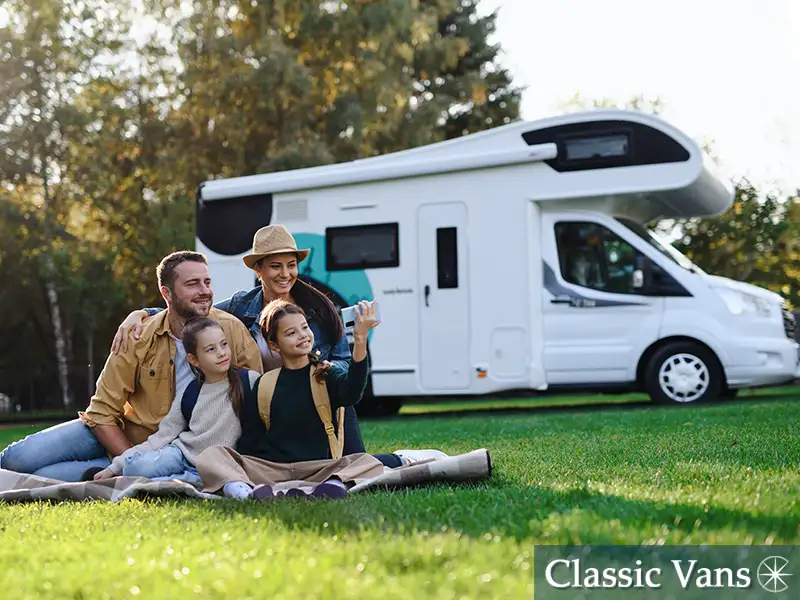 If you love to travel, then you likely suspect or already know that campervans are the best way to explore. Class B motorhomes provide adventure and flexibility at your fingertips. Campervan owners are often repeat buyers because they know that class B is a great investment financially as well as for their soul!
Here are some of the reasons why we think traveling via motorhome or campervan is WAY better than going from hotel to hotel.
1. The views
When booking a hotel room, rates are typically determined by room size, floor height, and the view. When traveling via campervan, your view possibilities are only limited to how much you're willing to explore to find that perfect spot.
2. The savings
When you crunch the numbers, camper vans will save you money on overall travel costs almost every time. A recent article in Time Money took the overall cost of 7-day and 21-day trips via hotel and compared it to owing (after purchase, using a price per mile calculation) and renting a small RV. They found that owning a campervan was easily the most economically viable way to travel every time.
When you travel via motorhome, you essentially have your rental car plus your hotels combined, letting you spend money on more important things like creating lifelong memories and going on exciting adventures.
3. The access to nature
Motorhomes can be driven in national and state parks as well as many open spaces. Rather than spending the day hiking, only to have to travel by bus or car back to your hotel, why not pop into your campervan and have everything you need (food, shower, toilet, bed) without leaving the park?Are you an avid fisherman or surfer? Rick climber? Outdoor enthusiast? Hands down ,there's no easier way to access your favorite hidden spot than with a campervan.
4. The comforts of home
Traveling via campervan means you can bring many of your most beloved household items along for the ride. Food, clothing, projects…. you name it.
No need to worry about your suitcase weighing too much or finding a store abroad that sells your particular brand of choice. A campervan is essentially your mini-house on wheels.
5. The freedom to come and go as you please
Ever find yourself at a hotel you didn't want to stay in? When traveling in a campervan, you can change your plans at any time, on a dime, with no additional fees.
One of the greatest things about owning a motorhome is the flexibility it allows you. It's your vacation after all, isn't it?
Overall, campervans provide much more versatility than hotels. Have lunch in your van and then take a short afternoon siesta before you drive to your evening activity.
6. The ability to bring pets & big gear
Going to the airport and checking in additional items such as big sporting equipment can be a hassle and expensive. Owning a campervan allows you to pack your kayaks, surfboards, golf clubs, and other "hard to check" items with you.
Do you have furry family members? Bringing your dog or cat on the plane can be no fun for them or you. With a motorhome or RV, loading up your feline or canine with all of their food and toys is a breeze and much less stressful.
7. The memories
One of the best things about traveling with loved ones is creating lifelong memories. Adventuring with friends and family in a motorhome is sure to generate amazing experiences that you'll be sharing again and again.
Your Next Campervan Adventure Awaits
Searching for your next motorhome or campervan? Classic Vans has been supplying the San Francisco Bay area for over thirty years with travel vehicles for every budget. Browse our inventory or contact us today to find the motorhome, campervan or conversion van of your dreams.
Don't live in California? No problem! Ask about low cost nationwide van delivery.