This year, the American Automobile Association (AAA) is forecasting that 56 million Americans will be taking a road trip this year.
Whether you're planning a quick weekend getaway or an indefinite journey across the country, getting your vehicle ready for the trip is probably on your mind. Conversion vans and class B motorhomes are the ultimate way to travel, in our opinion. They offer space, capability, safety, and amenities a minivan or SUV just can't provide.
Getting your van ready for the road is pivotal in starting your trip off right and avoiding any unexpected blunders. Prior to "take off," we recommend following these tips below to set your vacation up for success.
Van Maintenance Checklist
It seems like a "no-brainer," but folks often get so excited with their trip details or packing that they forget the basics. Use the checklist below to avoid any sudden breakdowns:
Air filter: Clean air filters will help your engine run smoothly. Take your vehicle to the nearest oil change shop or mechanic to find out if it needs replacing. If you're a DIYer, remove the filter and lift it up to the light. If you can't see through it, it should be replaced.
Battery: Take a peek under the hood and look for any corrosion or detached cables on your van's battery. If you're planning to travel to a warmer climate, make sure your battery fluid isn't low. If it is, top it off with distilled water or get a new battery.
Belts: Review your timing belts for glazing, frays, splits or tears. Get them replaced if needed.
Brakes: If you've been hearing any noises or grinding sounds when you apply pressure to the brakes, it's a good idea to have them checked out by a professional and replace them if needed.
Hoses: Your van's hoses should be firm, yet bendable. Look for cracks and other observable damage.
Radiator: Check under the hood and through your front grill to make sure there's no debris in or around your radiator.
Tires: When was the last time your tires were replaced? A thorough tire check can help avoid unnecessary trips to a mechanic or calls to AAA during your trip. Typically, you should get new tires about every five years, but it depends on your travel patterns and the type of tire you get.
Before you leave, check all tires for cracks, bulges or abnormalities. If they seem to be in good shape, next check the pressure. See your owner's manual to find the proper PSI level.
Wipers: According to Consumer Reports, your windshield wipers should be replaced about every 6 months. If you're planning a longer road trip, you may encounter bugs, dust, rain or snow.
In addition, if you're traveling in a class B motorhome or RV, be sure to check the voltage system, water system, and electrical system. If you're traveling for an extended period of time, be sure your toilet and air conditioning are in good working order.
Road Trip Packing List
Aside from clothing, food, and sporting gear, look over this list of essential items to pack in your van. You never know when they might come in handy!
GPS: You might consider purchasing a GPS device rather than using your phone, especially if you're planning to travel in remote areas with little to no service. These days quality GPS devices are pretty affordable.
Flashlight: This could be handy in a number of scenarios. Having a small, yet powerful, flashlight to examine your vehicle is helpful in case you van breaks down at night.
Fire extinguisher: Hopefully, you don't have to use this tool, but it's good to have just in case. You can purchase a compact fire extinguisher that won't take up too much space.
Small tool kit: Having a set of pliers, hammer, and screwdriver can be a lifesaver in a pinch. Store this with your fire extinguisher and flashlight.
Tire replacement tools: Knowing how to replace your vehicle's tires is a valuable skill. If you don't know how already, there are lots of Youtube videos you can watch to learn how. If you're still intimidated, make sure your roadside assistance is up-to-date.
Jumper cables: If you plan on traveling frequently in your RV, motorhome, or conversion van, investing in a quality set of jumper cables is a cheap and worthwhile purchase.
Phone charger: Having an extra phone charger as a backup is always a good idea — road trip or not.
Drinking water: Just in case you get held up somewhere, you don't want be without H2O!
Blankets: Depending on the climate, extra blankets can be a lifesaver.
Credit cards/cash: Depending on how long and where you plan to travel, having some means of paying for services and goods is important. If you're traveling out of the country, exchanging dollars for the currency of your destination beforehand can save you time and money.
Travel documents: This may seem like a no brainer, but having your driver's license, insurance card, vehicle registration as well as any roadside assistance information is a must.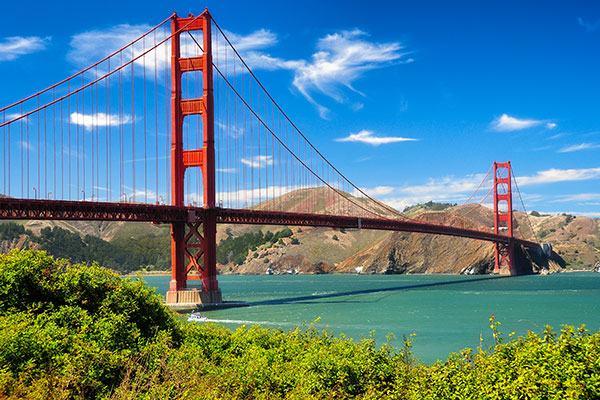 Summer is officially here! It's time to load up on sunscreen and pack up your beloved campervan for a summer road trip. Here are some treks we recommend.
Safe Travels!
We hope this list helped you prepare for your much-deserved getaway! The sooner all of this maintenance and packing is out of the way, the sooner you can focus on enjoying your road trip.
Continue browsing our blog and check out our Travel Van Knowledge Center for more tips, tricks, and advice.