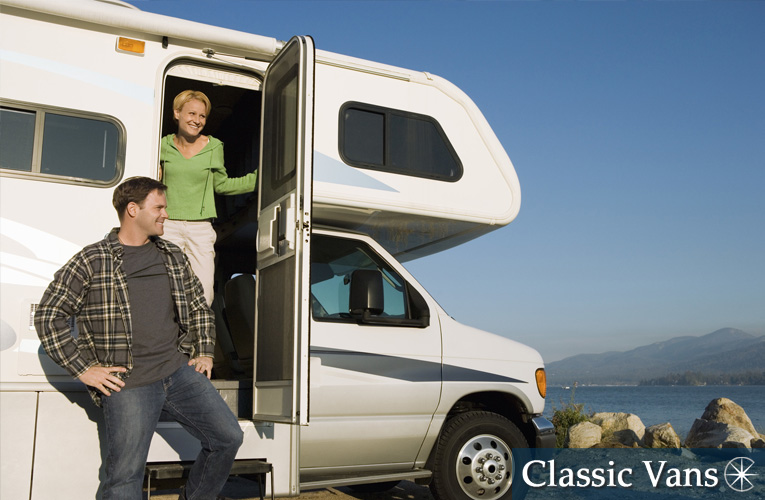 Ever since the start of the COVID-19 pandemic, the RV industry has seen sky-high demand for new and used recreational vehicles such as Class B motorhomes and campervans as many people have opted to hit the open road for their next vacation.
There are lots of theories floating around about what's sparking this new interest in the #vanlife movement, but we wanted to hear what today's college students had to say.
We're pleased to announce that we received nearly 200 thoughtful essays on this topic! While we ultimately had to choose just 1 winner—Esai Ramirez from Texas State University—we wanted to highlight some of our favorite responses from other students and share their insights about what's fueling the renewed excitement around RVs and campervans.
Here are some of their responses to the prompt:
The RV industry saw massive growth during the beginning of the coronavirus pandemic. What are the main factors and why?
Esai Ramirez from Texas State University (scholarship winner):
"When COVID-19 was declared a pandemic in early 2020, Americans were concerned for their safety. Lockdowns, travel restrictions, and working from home were all implemented swiftly for our protection. While this was necessary, people didn't like being isolated. This desire for freedom grew as lockdowns progressed, causing people to seek a solution where they could experience it while remaining safe. Using a recreational vehicle (RV) became a popular solution. From renting a simple camper to utilizing a van as a full-blown 'tiny home,' the RV industry saw massive growth due to a desire for freedom and a change in the work-life balance outlook during the coronavirus pandemic."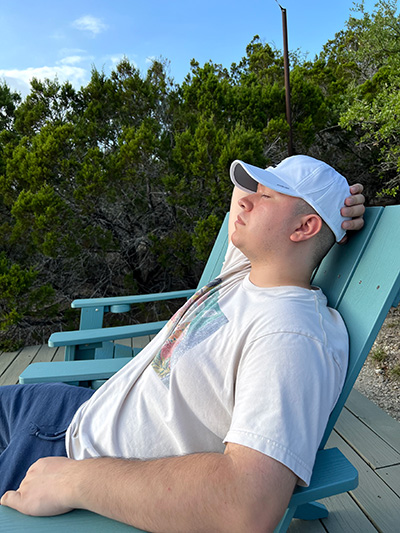 "One of the best ways to experience freedom is to visit one of America's national parks. Parks such as Yellowstone National Park were great options for travel during the pandemic, since following social distancing guidelines was effortless. In fact, Yellowstone National Park was one of the only national parks to have an increase in annual visitation during 2020, with twenty-three thousand visitors arriving in an RV camper. The need people had to travel after being in lockdown created a phenomenon known as 'revenge tourism,' where people travel to 'get revenge' on the pandemic for keeping them in their homes. Revenge tourism fueled by a desire for freedom is in part responsible for recreational vehicle's popularity increase during the pandemic. However, there is another reason yet to be mentioned."
Amanda Conway from Oregon State University
"It was a pivotal moment where humanity was faced with the fragility of life on a massive scale. Many people decided it was time to live it up and make bold moves in the pursuit of happiness. Working from home felt liberating, people were afforded the freedom to be their own bosses. For the first time in many peoples' lives, they discovered they had opportunities that emerged through the darkness. It was time to hit the road and check those travel destinations off their bucket lists."
"A plethora of online tips, blogs, and resources made it more accessible for newcomers to thrive and flourish on the open road. Whether it be the pioneers who carved their own path, or the new kids on the block, the pandemic RV journey provided an exciting adventure."
"Being able to get out into the world after being locked down was a treasure. RV-ing during this time of pain allowed people to be filled with joy, to enjoy the breathtaking beauty of the land, and most importantly, to embrace opportunities to cherish such precious moments we had with one another."
---
Melanie Schwarz from Oregon State University
"The COVID-19 pandemic flipped life as we know it upside down. It caused misery, panic, and death. But alongside the tragedy came new technology and innovation. With the rise of remote work, it gave people the freedom to travel. They could instead leave whenever and go wherever. Being stuck in quarantine gave a lot of people cabin fever and a longing to just get out of the house. A RV seems like the perfect answer- it has the luxuries of home but the portability of a car. With portable hotspots and free wifi at McDonalds, working in a new area everyday was reasonable. RV's also gave people opportunities to escape to the outdoors, which would provide peace of mind from the pandemic, especially if living in a densely populated area."
---
Jacob Crutchfield from Universal Technical Institute
"The RV industry saw massive growth at the beginning of the coronavirus pandemic due to many factors. A large factor for instance was the increase in housing prices and the decrease in employment possibilities. 'Median housing prices in the first quarter of 2020 were at $329,000 but reached $428,700 by the first quarter of this year' according to statistics from the U.S. Census Bureau marking an increase of over 30%; meanwhile by July of 2020 roughly 9.6 million people had lost their jobs due to the effects that the pandemic had on our country. The resulting combination of these main factors in conjunction with the ability to travel with ease and live a much simpler and more fulfilling life; save money while embracing the beauty of nature, and the need for people to have some control over their lives allowed many people to experience the joys that RV and Campervan lifestyles have to offer."
---
Christina Olague from Azusa Pacific University
"Van life and RV travel have recently become more popular since the start of the coronavirus. In a time of seclusion, death, and uncertainty, people began to realize that life is too short. The outdoors was a way for people to cope with the lockdown and being unable to be around others. The outdoors possibly saved many lives, and studies have shown the benefits of the outdoors to a person's mental and physical health. People have also started to work remotely, which has allowed more freedom with their time. I am an avid watcher of van life travel videos and have fallen in love with the community. I think there are many reasons this lifestyle has gained popularity within the past few years. I believe the most popular reasons are social media, remote work, and looking at things from a new perspective."
---
Madison Wilson from Long Beach State University
"As humans, we looked at our cluttered, busy, sometimes lackluster lives and wondered, why is this what we are living for. We realized we don't need or desire to have so many clothes in our closet, and so many 'things' in our homes that are often not thought about for months at a time. Many people were required to work from their home, realizing you can work from- well anywhere that has access to wifi. Why do work from your kitchen table, when you can do work from inside of your van that's parked next to any of the beautiful wonders our country has to offer."
"Many families, especially those with children, found the idea of learning around the country to be much more inviting than learning online all day. Children are not meant to be glued to a device all day, with small breaks to the front yard to get their 'fresh air.' Many parents took the opportunity to continue the access to online learning, and to take it on the road."
---
Serena Miliusis from Grand Valley State University
"Regrettable as it is that the catalyst for so many to make major life changes was a global pandemic, the results have been astounding in ways. So many people have finally created the space to live their lives more fully and slow the hamster wheel, including through travel and camping excursions. Travel in an RV also allowed people to comply with the need for social distancing while avoiding the stir-crazy loneliness incited by sedentary isolation in a house or apartment. Many jobs have become remote positions, or people have opened their own businesses which can be coordinated from anywhere. The quarantine and stay-at-home orders issued by governments created the time, flexibility, and mental capacity for people to reassess life and their aspirations. Many found their life lacking in happiness and adventure, so took the initiative to seek something new and make the most of a difficult time."
---
James Stewart from Northern Arizona University
"This sudden rise in sales and rentals can be said to be largely caused by Covid-19 and the fact that the pandemic made traveling much more difficult while also costing an arm and a leg. Recreation vehicles solve both of these aforementioned problems with extreme ease. They can solve these problems with the fact that recreation vehicles are easy to transport and even live in for extended periods of time, allowing for cross state or even cross-country vacations for those who want to spend a lot of time in a recreation vehicle. Recreation vehicles are also a kind of an investment in the long run, making it more economically sound than to purchase a single use plane ticket that has no purpose after it is used."
---
Gabriel Yip from Pepperdine University
"People all across America have had to adjust to life being quarantined in their homes. For some, this has caused feelings of restlessness as they are cooped up in their homes indefinitely. As a remedy to this, Americans look towards camping as a means of leaving the claustrophobia of their homes and experiencing the great outdoors. This phenomenon is also reflected in camping and booking services having a 400% increase in business compared to the previous year. (Bryant, 2020). Clearly more people want to go camping and experience the outdoors in the wake of Covid-19."
---
Oriel Tawo from University of Houston
"I recall seeing beaches in the background of Booking.com commercials that made me want to dive into the TV and take a swim, but it was 2020. Many airlines were grounded, and flights were restricted. Are you thinking the same thing I was thinking? Renting or purchasing an RV was the ideal solution to satisfy my need for a vacation."
"In the summer of 2020, the coronavirus pandemic limited leaving the house and flying. My family, like many other families around the world, were placed on lockdown in their own homes and could not travel anywhere. Though, this was when the RV industry made massive sales. The first factor that increased the sales of RVs was that people still needed to leave the house. Whether that was finding a camping ground nearby or simply just taking a staycation with the family, RVs were a safe way to get a break from being stuck indoors constantly."
---
 Kimberly D'Costa from Samuel Merritt University
"While some people enjoyed the freedom to work from home, others began to get cabin fever, longing to explore and travel again. RVs allowed people to be able to continue their remote jobs while being able to spend more time outdoors and on the road. Not only is this important for maintaining good physical health, but this also plays a significant role in mental health as well. Though people often think of the physical manifestations resulting from a COVID-19 diagnosis, they often forget about the struggles that people face behind closed doors with their mental health. The pandemic brought about an exorbitant amount of stress, uncertainty, panic, and worry, and with that came a rise in depression, anxiety and other mental health-related disorders. The RV lifestyle helped keep people working from home motivated to keep going and do their best to keep their mental health in a good place, while being able to spend more time outdoors with their families."
---
 Michael Shum from University of Arkansas
"The recent coronavirus pandemic shook our everyday lives and challenged how we all connected. Suddenly we were inside or distanced from one another and much more conscious about ourselves in a crowd. In tandem with this pandemic, specific industries and lifestyles gained popularity. One significant and notable increase was in the RV industry. This also affected interest in off-roading, overlanding, camping, and nature in general. Some of the contributing factors to this were a direct response to being stuck inside, needing safe and fun hobbies, and having the freedom to travel more."
"When we were all in lockdown that time changed a lot for people. They became antsy and urgently wanted to go out and do something. Many like myself then realized "going out" was specifically built upon things like shopping. What is an alternative reason to leave the house that was safe, fun, and could be enjoyed by your household? Hiking and visiting parks was a popular option but that in tandem with having unemployment money or remote work gave a sense of freedom to travel. So why just go on regular walks around the neighborhood park when you could buy an RV, off-road vehicle, or van and plan a journey to many natural wonders?"
---
Imani Wilson from Valencia College
"I believe many people were also making their best effort to be safe while trying to keep their lives as normal as possible. The necessity for normalcy could be a huge factor in why the RV industry saw massive growth during the beginning of the coronavirus pandemic. Traveling is valuable to people for many reasons. One reason is that it creates a break from day-to-day monotony. It allows people to explore different places, food, and cultures. Traveling is very important from a mental health standpoint."
"During the pandemic, RVs provided individuals and families with a more secluded and safe method of traveling. COVID-19 added to the dangers and restrictions that went along with traveling by plane or staying in a hotel. The ability for a family to hop in their RV and travel nearly anywhere in the country is both freeing and safe."
---
Julia Maletta from Purdue University
"During the coronavirus pandemic, a social media platform more commonly known as TikTok became a considerable part of people's daily entertainment. This app significantly impacted how people got through the pandemic without going crazy. Many people would post vlogs of their lives throughout the pandemic, including some major projects they may be working on. This is where RVs come into play. I found myself watching video after video of people deciding to sell their apartment and move into a mobile home, whether it was an old school bus/van that they turned into a mini home or an RV equipped with everything they needed already. It was fascinating to watch these random people travel around the US during a time when everyone felt stuck at home. They could just go without worrying about finding a hotel or places to eat every night, it was all right there. Social media plays a huge role in our decision-making, whether we like it or not. Watching people travel in an RV during the pandemic when practically everything was shut down sparked a new way to find adventure for many people."
---
Shania Reese from Kennesaw State University
"When the pandemic hit, it created several unique circumstances which further encouraged RV use. The pandemic instilled in many of us a sense of both fear and responsibility associated with interacting with people outside of our household. We could not interact with the outside world in many of the ways we were used to, despite this we still possessed a strong desire to interact with it."
"Camping is one of the only activities you could responsibly and safely partake in outside of our houses before the vaccines were widely available. More than that, campgrounds were one of the only places open to the public at all at some points, so options were limited. Camping is relatively easy and inexpensive to get started in but soon becomes cumbersome to haul along all the necessary equipment needed to make your stay truly comfortable. A common solution to this is the RV."
Think you could write a winning essay? Submit an entry in our next essay contest!
Are you currently enrolled in college? If so, consider entering our next essay contest for a chance to win a $1,000 scholarship! Check out our scholarship page for more information.
Thanks to all the students who participated in this contest, and best of luck in your studies!