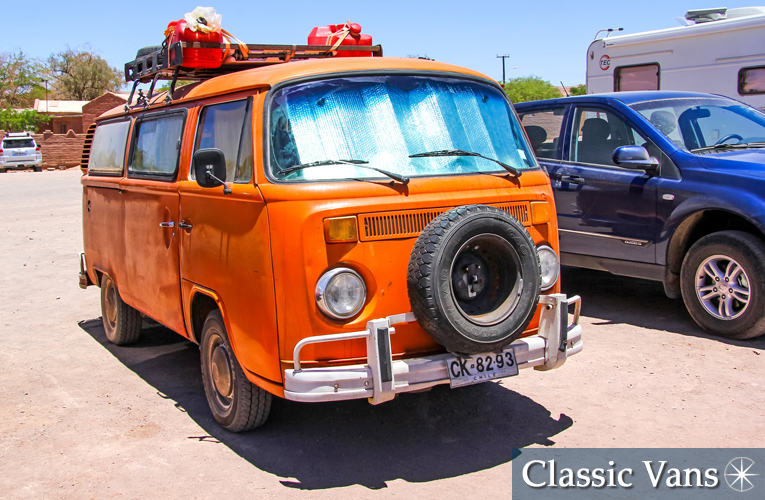 Here at Classic Vans, we recently asked the next generation of weekend warriors and full-time travelers to reflect on how RVs and campervans have changed in recent decades (for better or worse) during our 2020 scholarship essay contest. We were thrilled to receive nearly dozens of submissions from students attending colleges and universities all over the country.
Some of the biggest and most meaningful changes that travel vehicles have undergone in recent decades, according to students, were:
While we could only select 1 winner for the scholarship award, we wanted to share some of our favorite responses from other applicants. Continue reading to check out the highlights below to see what students had to say, in their own words.
Essay question: How have RVs and campers changed to allow for living on the road full-time?
Madison S., University of the Incarnate Word:
---
Nanette L., Santa Monica College:
---
Daniel O., University of Houston:
"…the modern RV is equipped with many, if not all of the things a common home has. You want a restroom? No problem, an RV can let you choose from a minimalist design to something a little more fancier. Want a kitchen? Yeah no need to worry about starting another campfire, RVs have space for a functional stove, microwave, and other appliances. Of course, how could I forget about the good old H20. Yep, RVs are equipped with filters and even pumps, which can let you get water from a natural, renewable source. You're tired and want some shut eye? Well, through some witchcraft, the engineers of RVs can fit a makeshift bed into the wall using geometry. How could I forget, you need some Spotify while you're on the roads? Don't sweat it, RV's have their own wifi and internet included."
"…I'm sure that the future for these vehicles are bright. So, let's sit back and watch what RV's can become next…"
---
Marieli P., Columbia Basin College:
"Like every invention there are successes and failures, and more importantly, room for improvement. The Modified Model-T Ford Roadster was the first of its type and since then the motorhome industry has become as luxurious as buying a mansion, if not more.
As we know, sleeping in a car is not the most comfortable experience—the average American man is five feet and nine inches tall, not a suitable height for prolonged trips— so as the years progressed so did the ideas. Amenities such as small stoves and ice boxes were implemented into the first Airstream trailer built by Wally Byman in 1929. These models were the first self-contained trailers suitable for long road trips and paved the way for popularization of RVs in the late 1950s. RVs and campers became more diverse in shape and size, yet they continued to hold and serve the same purpose; that purpose being to provide comfortability and luxury for on the road fun."
---
Haley B., Cal Poly Pomona:
---
Mitchell A., Clemson University:
---
Jacqueline L., University of Arizona:
---
Taylor L., University of Arizona:
---
Karina S., University of Texas at El Paso:
---
Brayden P., Lindner College of Business (University of Cincinnati):
---
Janet V., Texas A&M University:
Where they used to be for temporary getaways and secluded weekends, you can now pack up and leave and live in them long term… With the comforts that they now offer, if you want a more nomadic lifestyle, you're able to do that all within the comforts of the 21st century."
---
Kayla M., Western Governors University:
Not only did [our trailer] offer us beloved vacation memories, but it also offered us shelter during an exceedingly difficult time in our life. In 2018, the Pole Creek Fire blazed through central Utah. In its path, sat our family farm and our little home. Without warning the fire burned through our farm taking with it storage sheds and an old camp trailer. As it traveled it became more and more of a threat to our home. As the fire came over the hill just a couple hundred yards behind my house, I began to realize that it was probably going to take my house and all my belongings. With little chance of the fire stopping, I began loading my possessions into our camp trailer. Pictures, clothing, irreplaceable possessions, and other loved objects covered each surface of the trailer. We made it out just as the fire overtook the fields behind our house. Over the next two weeks, our camper played home to us and our 2 dogs as we wondered if our house would make it. Gratefully for us the fire came to a stop 40 ft from our small house and we were able to return home. At the time, we were sure we were going to lose everything. Had it not been for that old peeling Sierra hooked up to the back of our truck, we would not have been able to take with us so many precious items and they may have been gone forever."
"Whether they're used to go on an adventure, offer a permanent home or shelter you during difficult times, campers and RVs will continuously be second homes to us."
---
Alicia M., Wayne State University:
"As time progresses, the draw to non-conventional living situations have become more popular. People have been drawn into the ideas of being on the move and seeing the landscapes, not being tied down. People have also realized they can live in frugal luxury by way of living a van life. RVs have developed in such a way as to cater to almost any lifestyle. There are vans that are the vehicular transport itself, illuminating the need for heavy-duty trucks to haul the RV. Many vans have a pop out feature to create more space within the van. This is ideal for families. They also have restrooms, showers, electricity, gas lines, a few options for sleeping arrangements. This has made it easier for people who want to live a life of adventure not have to sacrifice having a family. This also made for bigger families to be able to have creative forms of vacations… Some RV's have satellite and WIFI connectivity too so the privileges of modern life doesn't have to be sacrificed!"
---
Hunter W., Ohio State University:
---
Sarah H., Colorado State University – Global Campus:
---
Mackenzie M., University of Missouri:
---
Cameron F., Southeastern Baptist Theological School:
---
Julianna I., D'Youville College:
---
Cadee B., Oral Roberts University:
---
Ariel H., Western Governors University:
When my kids get out of school, I would like to be able to stay in an RV and drive down the coast of California and stay at the RV parks that are right on the beach. After that I would continue around the United States south and head to Texas and around to Florida—eventually with the goal to find my retirement home area."
---
Leticia G., Texas A&M University:
"Motor homes have changed from being a small vehicle with only small sitting areas to being larger places with most amenities available in a foundational home; having restroom facilities, with complete plumbing, large living areas and in some cases even electricity. Some people who have chosen to live a less complicated lifestyle or a minimalist lifestyle as well. Some people have chosen to downsize, even further, and have utilized social media and refurbished larger vehicles into traveling homes also complete with all the amenities and luxuries that fit their lifestyle and meet their needs, leaving them free to travel and experience life on the road.
Travel homes are unique and special in such a way that it allows people and families to gather together and learn about each other, and travel together creating memories and experiences—experiences that long after the trailers have gone on or been handed down bring a smile to our faces, and warm our hearts."
---
Braden O., Western Michigan University:
In the summer of 2015, inclement weather delayed the completion of our new home. We lived full-time in our camper from April until December. The amenities that are now available on campers allowed us to live comfortably until we received occupancy approval to move into our new home.
Upon retirement, my parents want to upgrade to a recreational vehicle and visit as many state and national parks as possible. Without the changes that have been made in campers, the dream of continual travel would not be possible. I just hope they will leave the travel trailer with me so I can make memories with my future family."
---
Maxwell W., Southern New Hampshire University:
"RVs allow for the convenience of bringing your home with you. If you are a nomad, you hook up at an RV park and travel. It makes it so you aren't stuck to one location. RVs now have generators and can also have propane tank hookups for gas stoves and water heaters. This allows for even more versatility if you want to go completely off the grid with the RV being able to self-station itself without having to be connected to the grid or a water supply. RVs have truly let people live on the road for the better and allow people to be able to travel more comfortably."
---
Elise K., University of Southern California:
Technological innovations that allow vans to have internet connections have made van life more accessible, opening up new opportunities for everyday people to live their travel dreams. A modern van build isn't complete without wifi. There are tons of options for staying connected on the road — options van lifers couldn't dream of even ten years ago. Many vans come with in-car wifi, and those building on their own can opt for a mobile hotspot booster to use and connect. Staying connected allows those living on the road to stay in contact with distant friends and family, work anywhere they have a signal, and travel without sacrificing the entertainment and knowledge the internet provides, which has made van life more accessible for the general population.
The internet and social media have also made van life significantly easier to navigate. Tools like Campendium — an app travellers can use to find free parking spaces for overnight living — have made van life cheaper and safer. Public forums on sites such as Reddit include tips and tricks for aspiring van lifers, providing them resources necessary to hit the road without unnecessary hassle. With in-van wifi, travellers have these tools available at their fingertips.
"Due to the rise of the internet and social media, people are able to hit the road and soak up the benefits of a travel lifestyle more than ever. The installation of wifi connections in RVs and vans makes life on the road easier and more accessible — meaning more people can live the road lives of their dreams."
---
Kyle D., Perry Technical Institute:
---
Sarah B., Johnson University:
"RV and campers have changed in capacity and functionality, constantly upgrading to this day to allow more people to feel at ease living on the road. While there are still many challenges and hardships one will face with this lifestyle, it is no less deserving of consideration and certainly no less rewarding than living anywhere else. RV and campers have grown to accommodate bigger families and those who desire more space for storage and relaxation on the road. Space is something the world seems to have plenty of and yet somehow not nearly enough. RV and campers have taken this into consideration when designing the perfect automobile for a family's road trips and living accommodations.
RV and campers are also constantly upgrading in functionality. Working plumbing, lighting, heating, AC, and other leisure you can find in a house are also found on these drivable homes. Nowadays while living in a RV or camper, you don't have to worry about what people in minivans or sedans might consider. Not to say living on the road full-time doesn't come with its own challenges, but it also provides a kind of convenience and freedom you don't find living anywhere else."
---
Erin H., Concordia University:
---
Think you have what it takes to win our next scholarship contest?
We'd like to give a huge shout out to all of the students who participated in this scholarship contest, particularly those who shared photos of their travel rig. Keep adventuring and best of luck on your education journey!
Are you currently enrolled in an American college or university? If so, and you are interested in participating in our next essay contest for a chance to win a $1,000 scholarship, we invite you to come back soon and visit our Scholarship page to see the next essay question and submit your entry.