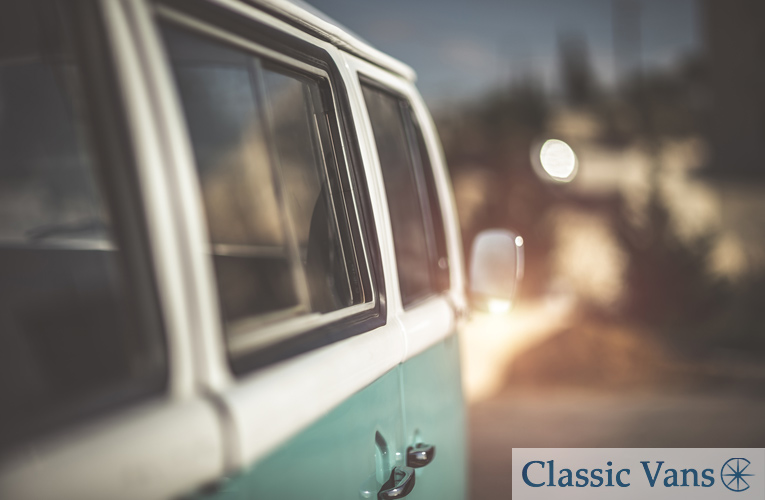 Back in 1988 when the Classic Vans story began, the world looked a whole lot different than it does today. For starters, cell phones were uncommon and the size of bricks. Back then, movie tickets cost $3.50, a gallon of gas cost 91 cents and one of the biggest news headlines of the year was Prince Charles escaping an avalanche in Switzerland.
In the last 33 years, much has changed—and the conversion van industry is no exception. In those days, some of the most popular models included models such as the Ford Coachman, Volkswagen Vanagon, Ford Falcon, Ford Econoline, Chevy Horizon, Mazda POPTOP, Dodge B-250, Toyota Hiace and the Nissan Urvan.
Nowadays, new technology and designs continue to push forward the evolution of the modern campervan, motorhome and class B RV. In addition, the industry has adapted their models to better suit people who have gone from "weekend warriors" to full-time #vanlifers.  
In order to highlight the remarkable conversion van improvements made in recent decades and show how far travel vehicles have come, we decided to focus on this topic for our second scholarship essay contest.
To enter the contest, we asked college students to submit a 300-500 word essay sharing their unique perspective on the evolution of homes-on-wheels in recent decades, specifically:
How have RVs and campers changed to allow for living on the road full-time? Share your #VanLife experiences with us.
We were once again thrilled to receive entries from all over the country, and we are excited to announce our winner!
Our winner, Bruce Martin, is enrolled at Spokane Community College studying to get an AAS degree in Automotive Technology.
Congrats Bruce on your scholarship, and thanks to all students who participated!
Without further ado, here's his winning essay:
How have RVs and campers changed to allow for living on the road full-time?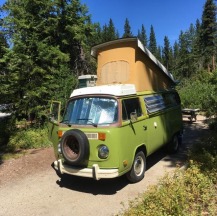 The world of RV and campers has come a long way since my '79 Westfalia came off the showroom floor. Gone are the days when people took comfort in discomfort. Back then the inconvenience of camping was part of the experience. Aches and pains were part of the fun and cramped spaces made you look forward to going home.
Those days are now a whimsical memory recounted by thousands, as they sit by the fire next to the recreational vehicles of today. Desire for home comforts are now a thing of the past. Today, many unshackle from the stick-built homes fastened, unmoving to the earth and attach themselves to the freedom of today's RV. They take pleasure in having all the comforts of a home everywhere and anywhere they go.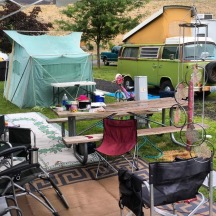 The RV's of today allow for comfort, convenience and freedom. My 79 VW kept me awake while driving with seat springs poking my back and the honk from cars that were eager to pass on even the smallest hill. Today driving an RV is as comfortable and effortless as sitting in your favorite recliner and the only need of pulling over is to stop and enjoy the view. These powerful machines of today effortlessly climb the mountains and can maintain freeway speeds in mountain passes on the hottest of days.
All the amenities of home make it easy and comfortable for entertaining. With tip out sides, todays RVs allow for room to get out of the weather. Nothing like being rained out when camping in my van. When looking for shelter from the elements in my van, I was thankful for the small space. There was no heater, so being huddled together made it easier to get warm. Today large awnings give shade from the sun and create plenty of room to keep your things out of the rain. In my van, things got wet, and stayed wet, until the sun came out again.
It is easy to look back at the "good old days," thankful for the experiences and how they strengthened your character. Nothing like reminiscing, in the comfort of the great RVs of today.
About our winner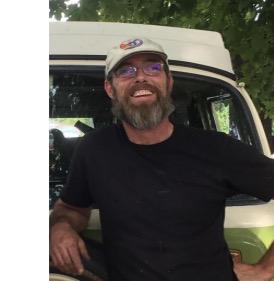 Bruce is a 45-year-old native of Spokane, He enjoys camping, disk golf and auto repair. He is currently enrolled at Spokane Community College to get an AAS degree in Automotive Technology.
Bruce currently supports his family of four as a coach operator for Spokane Transit. After graduation, he hopes to progress through the field of auto repair and work in a local shop. In his spare time, he enjoys restoring classic cars with his family.
Think you can be our next scholarship winner?
Visit our Scholarship page to participate in our next scholarship essay contest.
If you have additional questions about essay requirements or the selection process, feel free to contact us.
Stay tuned for our follow-up blog post highlighting some of our favorite student responses from other submissions.
In the meantime, we invite you to check out our previous essay contest winner and entries: