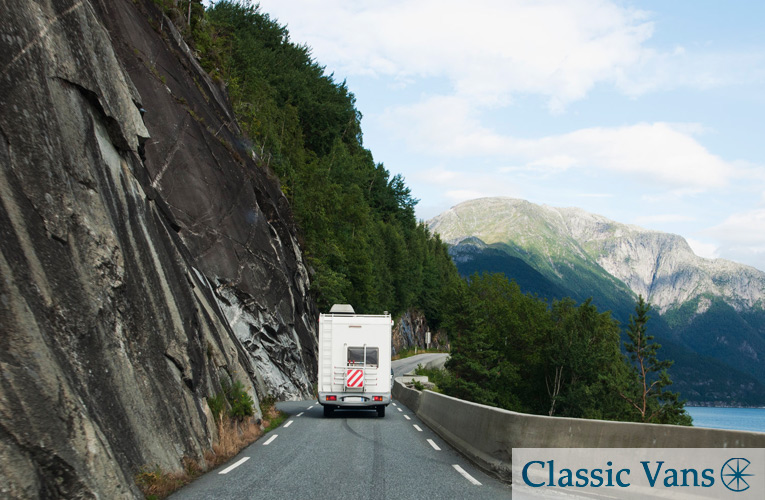 In recent years, the RV industry has experienced steady growth. In addition to retirees purchasing RVs and travel vehicles to enjoy their post-career years, a younger crowd (age 33-55) is increasingly living and traveling in RVs and conversion vans. In 2017, the RV industry had its 8th straight year of sales growth, growing by more than 200% since 2009.
But the future is never certain, and experts worry about how increasing student loan debt and technological changes will impact the RV industry in the coming years and decades.
Here at Classic Vans, we decided to reach out and ask students what they saw as the biggest challenges facing the RV industry in the future. We launched our scholarship essay contest in early 2019, and were thrilled to receive nearly 60 submissions! Students from over 30 universities and colleges sent in their answers, from Florida to California and everywhere in between.
By far, a majority essay contestants agreed that the single biggest challenge facing the RV and travel van industry was related to their environmental sustainability, including "green" technology, efficiency and their carbon footprint. As one student put it:
"The next generation of campers will respond to the greener options and most likely utilize the RV more often if they had the reassurance they were not contributing to excess pollution or fuel consumption. The last thing a camper communing with nature wants to do is to simultaneously pollute it."
Other common factors students seemed to consider when thinking about the future of RVs and conversion vans were:
Affordability. Many American students are burdened by debt and grew up during the Great Recession. This experience means that the cost of a new RV will likely be a major contributor to the rise or fall of travel vehicles and conversion vans among younger generations.
Technology. Students frequently listed smart technology and modern tech features (such as WiFi hotspots) as must-haves in modern RVs, motorhomes and conversion vans.
Design. Refreshing outdated and antique motorhome designs was another major concern of students when asked about the future of the RV industry. While some students valued the sleek, vintage designs of Airstreams and other models, most suggested that RV manufacturers go back to the drawing board to design more modern, contemporary travel vehicles that are more "Instagram-worthy."
Check out the highlights below to see what students had to say, in their own words.
Essay question: What do you think will be the biggest challenges facing the RV industry as new generations take up camping?
---
Leila Brandao dos Santos, Southern New Hampshire University (scholarship winner):
"So what do millennials actually want from the RV industry? This RV-owning millennial breaks it down.
Start with a better design. Head to an RV sales lot and you'll notice the same thing: A sea of identical RVs. From the boring exterior graphics to the mundane beige that afflicts most interiors, the RV industry has struggled to adopt modern design trends. It's not just about getting rid of the dated swooping graphics—although I can't stand the swoops—it's about approaching RVs like how we approach design and building more generally.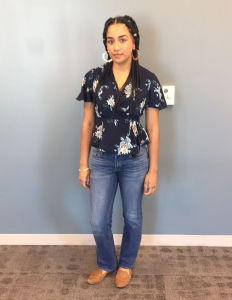 RVs should be well built, functional, and pleasant to look at. Some would argue that good design is as little design as possible. In most travel trailers, fifth wheels, and Class As, the RV industry has just added more—more slide-outs, more TVs, more of all the things they think will sell."
---
Joshua Campagna, College of the Canyons:
"In order to peak the interest of the younger generations there has to be an appeal and a motive for something they can do camping that they cannot do anywhere else. Being part of the National Parks club at my school we have witnessed first hand the struggle we are having on getting new members to join the club and even keeping the ones who at least come to one meeting… the RV industry needs to find new ways to give the younger generations a reason to go camping, let alone use an RV to do so."
---
Kaitlyn Medina, University of Central Florida:
"Sleek designs that are more appealing to the eye will be a for sure deal breaker to a millennial because they are more gravitated towards a futuristic look rather than an outdated or traditional look. Transportability as well plays a role in the RV industry due to new generations wanting to be able to travel further without the complications of driving with restrictions because of what they haul under vehicles whether its a trailer, jet ski, ski mobile, boat, or motorhome… Newer generations prefer indoor entertainment over outdoor. For example, gaming systems, wireless systems, TV's and WIFI are a necessity for future generations when looking into RV's because that's what they are grown up in and are taught to enjoy."
---
Cate Cole, University of Arizona:
"While many might appreciate the simplicity of being in nature, many younger generations will feel the need to 'improve' on their parents style. As a result the RV industry will be required to modernize and style up their vehicles in order to appeal to younger generations. This will lead to a new model and style of RVs that are meant to appeal to the aesthetic of the 'Instagram model' generation and be newly equipped with fancier and more expensive technology to compensate for the need of convenience and visual elegance."
---
Wendy Moon, Western Governors University:
"The rising generation prefers not to be disconnected from their electronic devices. There is less of an allure for people to go out and see the stars and truly experience nature. Many may ask themselves "Why get an RV when you can just drive a regular car and stay in a hotel, where the wifi lives?'. This is an obstacle for the RV Industry to attempt to overcome as they remind the rising generation of the wonder and beauty that can be found when they take themselves out into nature. An emphasis made on the options and electronic advances that have been included in RVs would be a wise avenue for the RV industry to take."
---
Melanie Acord, Western Governors University:
"I, personally, have noticed that a great number of individuals born around 1990 and later are very much concerned about the environment, and defense and preservation of our ecological footprint. This observance leads me to think that the rising cost of fossil fuels, and toxic emissions, could be the proverbial nail in the coffin for the RV/luxury van industry… I could hope to see a company within the RV industry decide to invest in, and debut, a completely electric recreational vehicle (even a conversion van) in such a manner that will still allow for surprising affordability for the upcoming typical middle class American…"
---
Riley Yaxley, DePaul University:
"I believe that the biggest challenge facing the RV Industry, as well as nearly every other modern industry, is the impending global climate crisis… While RVing offers unique opportunities for people to interface with nature and to cultivate strong relationships with our environments, we must also acknowledge the environmental impacts of these vehicles on the world around us. Otherwise, we risk contributing to the decline and degradation of the very places that we seek to enjoy and cherish through the use of our RVs."
"Hopefully, we will soon see developments towards zero-emissions trailers that will revolutionize the RV industry and develop products that can be adopted by those 30 million Americans who already are zealously enjoying the beauty of the outdoors."
---
Mollye Doering, Western Governors University:
"With this new generation of Millennials and Alphas, the RV industry will have to find a way to spice up the typical road trip mentality of 'let's get in a huge, gas guzzling vehicle for 15+ hours without killing each other to go see (insert tourist site).' They are going to have to find ways to keep families entertained until arriving at the final destination… I think if the RV industry could focus on making their RVs more tech savvy and more eco-friendly, these newer generations would be pulled towards them instead of spending their travel dollars on airplanes and hotel fees."
---
Tanner Feuerstein, Oregon State University:
"There is a certain degree of nostalgia for older designs with the current generation of clientele who grew up in the golden age of RV camping, but younger buyers see these designs as antiquated and unappealing. The industry needs to refocus their efforts on creating high-tech designs that appeal to a 21st century sense of fashion and technology. One fantastic way to make this happen is by creating 'smart RVs,' which would be similar to smarthomes, allowing users to program features from the designs on walls to air conditioning and eventually, self-driving RVs."
---
Hector Arellano, University of Central Florida:
"As new innovations in the electric vehicle industry are reaching milestones, who knows when we will be able to see the first electric RV. An electric RV will be more economical and the same good old family fun vehicle for camping… Yes, electric vehicles may be the future of the automobile industry. This transition will be the greatest challenge facing the RV industry as new generations take up camping as a hobby."
---
Justin Greider, Western Governors University:
"One huge value the RV companies can add, especially nowadays, is good gas mileage. With RVs being so large, good gas mileage can be a hard and expensive thing to achieve. Being able to get better mileage than your competitors will set you apart and help the customer see more value in the RV therefore allowing more wiggle room for the manufacturing price. Although it may add to the initial price it can immensely increase customer satisfaction and promote the RV industry in a positive way."
---
Sarabdaman Judge, West Coast University:
"Millennials do not think the same as adults and most of them do not have the money to buy RV's when camping. Most millennials who camp use tents and air mattresses… This is a problem for the RV industry because their sale prices will start going down as the millennials take over camping. Tents, air mattresses, etc. will be purchased more."
---
Carissa Wisse, Trinity Christian College:
"Many people are beginning to fly more often because flying gets you to places quicker and gives you the ability to go farther away from home. They choose this option over RVs because they're able to go to farther places quicker… While flights and far away travel is still expensive, it is cheaper to pay for a flight and a hotel every once in a while, rather than buying a motor vehicle for thousands of dollars. Buying an RV is an investment for future travels, but many people only see the current costs in front of them."
---
Cori Bachler, Montessori Schools of Flagstaff:
"Younger generations have a more environmentally conscious perspective when considering big decisions."
"In this case, we are considering which is better, an RV or van. There are many reasons to choose a van over and RV including their size. They are smaller and lighter using gas mileage, which makes vans more appealing when considering our ecological footprint. Vans also use less metal because of their size, creating less of an impact on our environment."
---
Nicholas Lombardi, Colorado State University – Global:
"One of the biggest challenges that the RV industry is facing with younger generations who participate in camping is the movement of 'van life.' Van life is a lifestyle that younger generations have embraced as a way to live out their dreams of travel and freedom…Creating vans that are smaller, trendy, and affordable would benefit the RV industry because of its alluring spell to the nomadic younger generations who hear the call of the wild."
---
Megan Engelbrecht, Western Governors University:
"RV companies are going to need to try to incorporate high efficiency of the RV with the technological expectations. Being able to make an RV will need to appeal to the consumer, maybe making it so your smartphone can be linked to play music in stereo, or sync to a coffeepot to start your brew in the morning. Small little things will help make going on an adventure more appealing to the highly technologically dependent consumer."
---
Charles Johnson, Mt. San Jacinto College:
"I strongly believe that the adverse nature to debt and excess consumerism is at the forefront of anyone's mind who was born around 1985 and later; because they witnessed the consequences of being leveraged too heavily. As a result, there has been a shift from owning homes, owning vehicles, and owning recreational vehicles of all types into the sharing economy, this coupled with an increasing cost of goods without the same growth in wages is leaving people financially burdened."
"There is no less a desire for the youth to get outside and adventure, I would argue that the growth of social media has actually caused an increase in the desire – the issue becomes what method will they choose?"
"By tapping into the idea of a shared community, and renting versus owning, the RV industry would likely see a growth in rentals of their products and still be able to find profitable ways to grow their companies… Different age groups require different marketing techniques and this may be entirely inappropriate for someone who is nearing retirement and truly wants to drive around the country, but for those of us who are just getting out of college and trying to navigate newfound independence I think this technique will resonate much more strongly by providing gratification of travel without the burden of further debt."
---
Zaden Webber, Murray State University:
"The biggest challenges facing the RV industry as new generations take up camping would be having new and improved designs, small high-quality functional RV's with technology applications, and making them green (environmentally friendly)."
---
Jeserine Garcia, West Coast University:
"I believe the challenges the RV industry will face will be entertaining and providing future campers with the most modern camping experience. The new generation is undoubtedly more tech-savvy than the older generation. Overcoming boredom is easily remedied with the use of an iPad and wireless internet. If RVs fail to advance in their entertainment features, there certainly will be a loss of interest in the newer generation… Including WiFi in the RV would immediately enlighten the new campers, allowing them to feel amused and connected with the outside world.
Modernization attracts the new generation, whether it be an updated bathroom in the van or a modern style RV exterior."
---
John Gengler, University of Arizona:
"People have advocated against the RV industry due to their large energy and fuel consumption which could be harmful to the natural environment – where most people tend to travel in RVs. There is also concern about the engine scaring wildlife, which drives the animals farther and farther away from their natural habitats… These environmental concerns are the largest challenge facing the RV industry as new generations take up camping."
"The RV industry would greatly benefit (and benefit the Earth) by adopting environmentally-conscious building and operating materials, such as electric motors and solar panels. If the RV industry wants to survive, they will have to adapt to the new consumer markets geared towards sustainability."
---
Taylor Ryan, Seattle Pacific University:
"I think one of the biggest challenges that the RV industry will face in terms of new generations taking up camping are the environmental factors… I believe newer generations are more aware of the environmental impacts than past generations. The RV industry can be negatively impacted because people may look into other avenues of camping, rather than buying or renting an RV."
---
Cynthia Frazier, Western Governors University:
"The biggest challenge facing the RV industry as the new generations take up camping is the new focus on eco-friendly choices. RVs are historically viewed as large gas-consuming and air polluting vehicles. The image of a clunky vehicle spewing a cloud of pollution like a city bus comes to mind. This image makes the less comfortable but highly eco-friendly tent option, more appealing. The new generation of campers want fuel-efficient, eco-friendly options as they commune with nature."
"It may not take a lot of adjustment to the RV image to achieve this ideal or change the historical image of the RV. If the RV companies address these views by incorporating eco-friendly options such as solar paneling to offset some of the energy consumption fossil fuels would require this could help that image."
---
Ashton Crowe, Murray State University:
"Without an RV, either in taking a car or plane, a person could greatly lessen their impact on the environment and potentially lesson their costs as an individual will spend a significantly less amount of money on gas driving a vehicle… I believe one of the biggest challenges the RV industry will face, as these young generations are coming of age to purchase RVs, is to be able to satisfy the minimalists. The selection of RV's satisfying the mindsets of both the extravagant city dweller and the minimalist will be the largest hurdle for the RV industry to overcome."
---
Olivia Wilson, Brigham Young University:
"[The] stereotype of a 'typical RV-goer' is what will be one of the biggest challenges facing the RV industry as young people opt for hammocks and tents instead of RVs and trailers. The next generation is strongly influenced by social media. When they go camping they want to post pictures of them and their friends chilling in hammocks… RVs are essentially the perfect representation of the modern world that people are trying too hard to disconnect from. The RV industry doesn't just have to compete with hotels and VRBOs, they have to compete with the 'taking a break to reconnect with myself' aesthetic of camping on social media."
---
Sonja Barr, Western Governors University:
"Some of the biggest challenges facing the RV industry as new generations take up camping are size, environmental cost, and affordability to the consumer."
---
Karly Andersen, Trinity Christian College:
"I think that the RV industry is going to have a very hard time equipping itself to be as glamorous as people want. Don't get me wrong there are plenty of luxury RVs out there. I think that the issue will be making them cheap enough that people do not have a problem buying them. These new luxury RVs are stunning, but they are so expensive. You could go on a vacation to some tropical island if you're going to buy one!"
---
Carissa Cavicchioni, Trinity Christian College:
"For the RV industry to thrive in the future, it will need to meet my generation where we are at. Show us that camping can be more fun than a YouTube video. Share some of the unfiltered pics that can be found only by venturing out in an RV. True adventures, exploration, and freedom can only be found by getting out there, not by holding it in our hands."
---
Maral Paleski, Stetson University:
"This issue may pose a threat to the RV industry as the newer generations become older; the desire to use one's cell phone usually outweighs the desire to spend time outside and connect with nature. One way to solve this problem is to offer internet connection in those campers so that more people who wish to camp, and also wish to use their phones at the same time, may fulfill both needs at once.
Another challenge that shows itself for the RV industry is the financial insecurity that many newer generations worry about. While camping itself may be affordable, buying a camper may not be."
---
Victoria Jeanne Mendez, Mt. San Jacinto College:
"RVs are an excellent experience and one that I see staying around for generations to come. However, I think the biggest challenge is how to make the RV green, well still offering the same great efficiency, and keeping an RV at a reasonable price… I cannot wait to see the new innovations that come from the RV industry along the lines of electric RVs."
---
Brittney Ramirez, Florida International University:
"…the RV industry's success lies in adapting to new generations while simultaneously remaining true to its purpose: recreation. This can be done through innovation and adoption of new technologies… More importantly, the RV industry must remain true and exciting. The industry must continue to support and project the message that experiences are invaluable and memories are irreplaceable because with every RV ride and camping trip comes new laughs, new experiences, and new relationships — invaluable things that technology has yet to figure out how to duplicate."
---
Christina Varela, Stetson University Law School:
"…younger generations tend to be more vocal about issues that are important to them. One of those issues is the environment and what we can do to improve it as climate change becomes a bigger threat every day. As these younger generations take up camping the RV industry will need to find ways to make RVs more eco-friendly."
"RVs should start being made with solar panels on their roofs. These panels could be used to power things such as the lights, refrigerator, stove, television, and other appliances on the RV when it is stationary. Swapping generators for solar panels makes RVs more eco-friendly, and therefore a more desirable way to travel to the younger generations. Generators would still be needed for days when the solar panels cannot create enough energy to power these appliances, but making a switch to mainly relying on solar panels for energy would be a very attractive feature of RVs."
---
Mattie Cannon, Georgia Gwinnett College:
"Several factors could be challenging for the RV industry in the future. Most concerning, young adults also known as millennials are frugal with their discretionary income… Technological advancement is the biggest challenge facing the RV industry. Millennials are interested in outdoor adventures with access to the web. While sometimes they want to be off the grid, they prefer the option of having technology available at their discretion… Lastly, oil prices will gradually increase… With the advancement of electronic vehicles, RV companies should consider electronic alterations to fuel powered engines. Millennials are concerned about the environmental impact of vehicles."
---
Kristina McCravey, Colorado State University – Global:
"I feel the biggest challenges facing the RV industry as new generations take up camping is having enough charging ports, finding places that suit the needs of the younger generations, and the cost as many RVs are expensive and student loans are substantial… The utilization of Wifi is important to younger generations as they were born when technology was already well established. Offering solutions for Wifi onboard RVs is a good way to sweeten the deal for younger generations."
"Renting an RV is more up my alley, or hopefully borrowing mom and dad's RV."
---
Fasha Lennon, Bakersfield College:
"My generation likes RVs that accommodate multiple users. We do not take money as seriously as our parents, and because we care about the environment, a vehicle that is eco-friendly and that does not cost us an arm and a leg for gas would be nice as well. Hybrid RVs that are economical while taking a 5-hour road trip to the football game and knowing that the vehicle is not destroying our earth is a plus."
---
Cody Valero, Western Governors University:
"As a lover of the outdoors and old school camping, I personally believe that RV camping might see a surge in interest. As we get farther away from the under the star's way of camping, I personally see the new generation taking a liking to the comforts that RV camping provides as well as the mobility! The millennial way of thinking would be to road trip around the US and kick it in an old renovated bus!
If there were to be a challenge in all the luster of RV camping, it would more than likely be the price of the vehicles. The other challenge will be the people trying to push for cleaner more economically friendly vehicles."
---
Jayna Bosse, University of Arizona:
"People do not want to spend such large amounts of money on gasoline to power these vehicles, and in addition, do not want to harm the environment as the polar ice caps are already currently melting. This created a big boiling pot of people creating excuses as to why they should not purchase an RV or even use the ones they already do own. In my opinion, because of these two, combined with other reasons, RV camping may slowly fade out and tent camping or camping in small rentable shack like enclosures will become much more common."
---
Spencer Browne, University of Arizona:
"[Younger generations] want to purchase a product that is both flexible and affordable, without sacrificing durability or utility. Some potential solutions to these challenges are focusing on innovative technologies that make recreational vehicles lighter, greener, and more efficient in their use of space. However, the most effective incentive for younger generations to purchase an RV or convert their van into a camper is to lower the price. Combining these approaches would greatly increase interest amongst younger generations in the RV and camper industry."
"The greatest challenge facing the RV industry in reaching a younger customer base is expanding the ability to use recreational vehicles with a higher degree of efficiency. Addressing this challenge will increase interest amongst a new generation of customers who are eager to explore the great outdoors."
---
Katie Bray, Southern Oregon University:
"Many RV's are not built with a wheelchair in mind, chronic fatigue, anxiety or the sensitivity of people's senses that occur in Autism."
---
Kaylie Lopez, College of the Canyons:
"Renting an RV could be a hassle and it's much easier to go online and purchase a plane ticket. Many people would rather take a plane because you can purchase within minutes and you also wouldn't need to drive to your destination. Flying would also be more time efficient, especially in the fast paced world we live in. You would also have to think about food and fuel expenses. Fuel is very costly nowadays and if on the road for a week that could really add up…
Not only is fuel getting more expense but fuel is also not environmentally friendly. Burning fuels can lead to a number of air pollutants that aren't good for our health. Many auto companies are trying to go green and come out with automobiles that are either hybrid or electric. Many young adults today are trying to be environmentally conscious using reusable straws, bags and water bottles because we only get one Earth and it should be taken care of. Most RVs that are out today are fully run on fuel and a lot of it."
---
Alyssa Delarosa, College of the Canyons:
"If the future trend of social media changes to social media influencers taking RV camping trips and posting pictures and videos glamorizing those trips, then and only then would the RV industry be able to increase in demand and popularity again with current and future generations."
---
Jessica Jones, Saginaw Valley State University:
"There are multiple challenges that the RV Industry will face as new generations take up camping. Young generations may not be able to afford a RV with their college loans, car payments and rent/mortgage payments.
With the environment a hot topic in today's society, many young people are choosing smaller, more energy efficient vehicles. These more eco-friendly vehicles may not be able to tow heavy and long RVs. So, RV manufacturers should consider building smaller and lighter RVs… Today's younger generations are concerned with protecting the planet. RV manufacturers should consider electric powered campers that emit zero emissions.
Additionally, houses are continuously updated and transformed into modern design. Therefore, the interiors of RVs should have a more modern look."
---
Krystina Freeman, University of Phoenix:
"I think the biggest challenge facing the RV industry as new generations take up camping is the ability to afford them. The cost of camping in an RV can be expensive especially for families on a budget… I'm a parent of two who loves the outdoors and when I think about camping with my kids, I think of the least expensive way."
---
Kagen Harris, Western Governors University:
"…times were much simpler when I was growing up, but thanks to our ever evolving culture the RV industry will face major challenges in the form of a two-parent working family household, children's extracurricular activities, and technological advances. Unfortunately, I feel that RV camping is a touch inconvenient and impractical for the modern millennial family in today's society."
---
Kiley Bates, Western Governors University:
"The younger generations will want more technology and they will want things to be easier. They want to compete with their neighbor by showing off their new and exciting toy without the price tag that typically comes with it. Younger generations also need more room to accommodate growing families. They want wi-fi and cable capabilities because a lot of them work from home. They want an RV that is more fuel efficient, so they don't only save money, but they help the planet at the same time. The younger generation wants the luxury of traveling the country without the cost. Reducing the initial cost input of the RV's and finding materials that work the same but are less expensive will definitely be a challenge."
---
Sara Pross, Clemson University:
"The first challenge facing the RV industry is the insufficient supply of campgrounds. Despite the rise in sales through-out the generations, new campgrounds are not being built. This limits the geographical areas that campers can travel.
The second challenge that new RV owners are battling is the inability to find enough trained RV technicians to help maintain their traveling homes.
Another challenge that the RV industry faces is the ability to manufacture a high standard of quality on their products while producing at a much faster pace."
---
Maya Reid, Northwestern University:
"I believe that the biggest challenges facing the RV industry have to do with climate change… With the weather getting more and more unpredictable, planning the next camping trip gets even harder which means people will be less likely to rent or buy RVs."
---
Leslie Paquette, Arizona State University:
"Unfortunately, as new generations take up camping, some of the biggest challenges with the RV industry will be competing with the technology age… The technology age has captured the attention of many young people who focus more on indoor activities like playing on game consoles, learning computer coding or texting on their cell phones. For many of these young people, the thought of camping, even in an RV, limits their ability to enjoy their technology devices."
---
Angel Hermosillo, University of Arizona:
"With the way the world is changing, the RV industry might have to put some thought and consideration for our environment as well. Maybe try and make a push in the direction of making electric RV so that people can enjoy the world, while also knowing that they are reducing their carbon footprint as well. This will take a group effort to change this place, but with the challenges that the RV industry will face in the up and coming years, I believe that the RV industry will pull through and make a change not just for the industry itself, but also for everyone that benefits from it as well."
---
Zoie Legeaux, Dillard University:
"The popularity of RVing is a testament to our love of discovery and adventure. Unfortunately, this modern mode of trailblazing has its own emerging problems rooted in the diverse needs of people, our dependence on fossil fuels and even the sheer size RVs have attained in our quest for all of the comforts of home.
Many younger RVers may find the carbon footprint impact of their trips disturbing and so limit the number of trips they take. It remains to be seen what innovations the RV industry will employ to surmount these obstacles. Some current methods are natural gas or electric hybrids and solar power.
One of the largest future obstacles for RV lovers is already impacting the RV industry. The Americans With Disabilities Act mandates standards for people with disabilities including accessibility features like ramps and elevators so that people can access buildings. Though costly, it is easy enough to install driving and chair lift accommodations on personal RVs. The larger issue surrounds the accessibility of aging RV campsites, many of which are privately owned. Camp modifications can be extremely costly for small campsite operations, but they ensure that RVers with limited mobility can fully access sewage and water and electrical hook ups and other campsite amenities as independently as they enjoy the freedom of the road."
---
Kendall Allen, Spelman College:
"In today's society we are always looking for ways to make vehicles smaller, sleeker, and more aerodynamic without compromising performance or quality. I realize that RVs and mobile homes are designed to be a home away from home, but when it comes to driving these huge vehicles it can be intimidating, even for the best of drivers.
Another challenge will be gasoline costs. The rising cost of gasoline and the pollution to the environment have been an issue for quite some time. As manufacturers invent electric cars and gasoline alternatives; the RV industry will need to work more toward minimizing the gasoline costs to help maintain an eco-friendly environment."
---
Chiara Armstrong, Loyola Marymount University:
"While the adventurous and outdoor lifestyle is growing in popularity, so is a focus on being environmentally conscious as well as cost efficient. These are the two biggest challenges that need to be considered by RV companies in order to shift sales to millennials."
"Important values have shifted away from luxury and more towards environmental consciousness. If RVs can find a way to fit into that mold, they will be able to market to younger generations easily."
---
Taylor Kratzer, Murray State University:
"Another reason I believe that the RV industry may face challenges as the new generation rises, is because the amount of debt many people of this generation are in… I believe that because of this, the RV industry will struggle, because many students who enjoy the outdoors may realize it is cheaper to purchase a single payment tent, instead of a monthly payment on an RV."
---
Gemma Alvarez, Cal State University – Fullerton:
"The biggest challenges facing the RV industry with my generation is that the classic vans are just not attractive to us new upcoming campers… Traditional vans and RVs need to be more attractive, more convenient, easier to drive, provide fuel efficiency, and provide non-expensive hookups. Innovative vans can make camping more glamorous and more attractive for me. We are the generation that was raised with technology, accessibility and we are eco-friendly."
Stay tuned for our next essay contest!
Would you like to participate in our next essay contest for a chance to win a $1,000 scholarship? Be sure to come back soon and visit our Scholarship page to see the next essay question and submit your entry.
A big thanks to all the students who participated! Best of luck in your studies.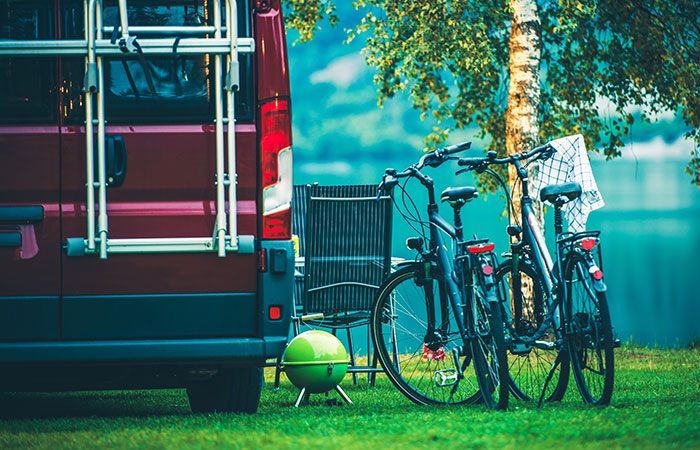 Is full-time vandwelling right for you? Learn all about the #vanlife movement, including the pros and cons, as well as tips and tricks for becoming an awesome vandweller.